Trevor Heath
A lifelong interest in steam locomotives.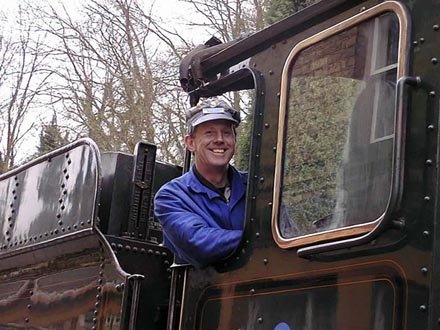 Born in England, I saw some of the last of British main line steam in 1967 as a 10 year old in Shropshire.

Many cab rides were obtained including a high speed dash from Shrewsbury to Wellington.

Can you imagine a 10 year old going down to the local railway station on his own and being taken for a cab ride to the next town today?

I have no images from that time but have owned this one for 35 years.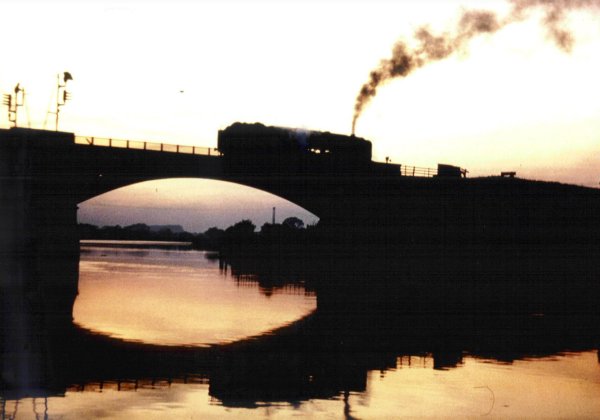 A British Rail "9F" 2-10-0 loco backing down near Blackburn in Lancashire during the last weeks of regular steam operation in England. July 1968.
---
I worked on the Severn Valley Railway as a teenager in the early 70's mainly clearing brush from the overgrown tracks south of Bridgnorth
I return to visit from time to time.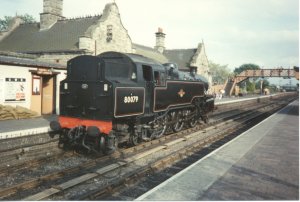 British Rail Standard tank 80079 running south through Bridgnorth station on the Severn Valley Railway during a visit in June 1994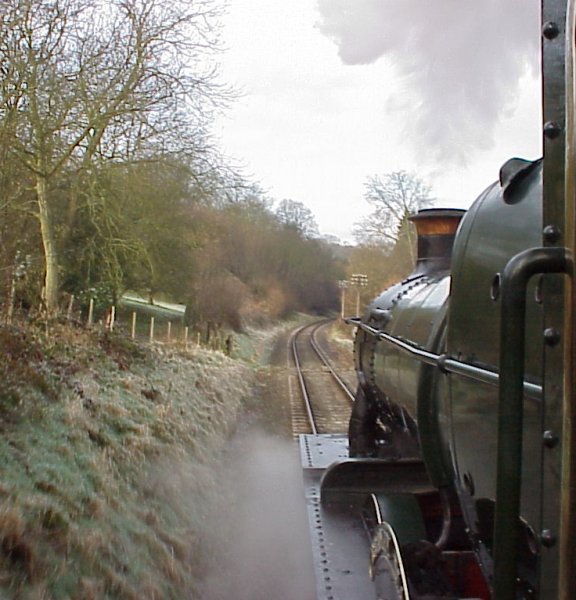 During a visit in February 2000, a cab ride on Great Western Manor class 7802 "Bradley Manor"
Just reward for the hard work in the 70's!
---
Father, Phil Heath, in the mid 1960's, built a live steam model of the L.B.S.C.R. "Terrier Tank", "Boxhill" in 1" scale and 5" gauge that we used to run at Kinver in Staffordshire and other tracks.
I spent many happy hours pounding around that track learning the basics of how a steam locomotive operated.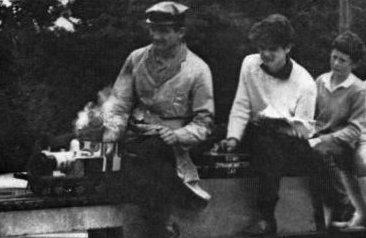 That is I, third in line behind Dad at the very first I.M.L.E.C held in Birmingham, England in 1969. We placed 9th. The Guy sitting between us is the dynamometer car technician telling Dad to slow down!
---
After a spell away from the hobby, Dad got involved again running a 2-6-2 tank loco on 7.25" gauge.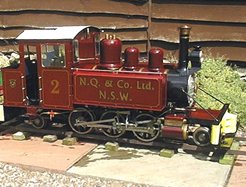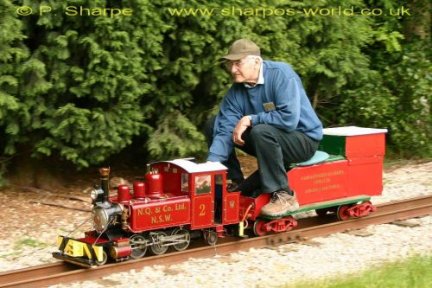 Weston Park Narrow Gauge Meet 2005
---
I've lived in the USA for 28 years and have become a life long enthusiast of all things steam.

Now widely traveled, I've pursued my interest in Europe, South America, China, India, Africa, Japan , Australia, New Zealand the US and Canada.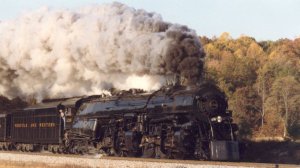 N&W A Class Mallet, 1218 heading north out of Chattanooga, Tennessee in October 1987
---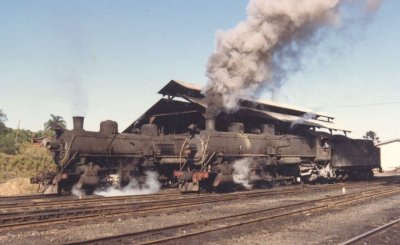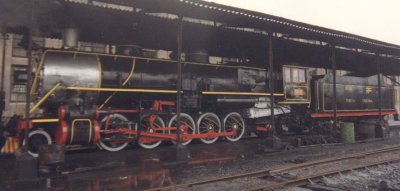 Two photo's of the Skoda (Czechoslovakia) 2-10-2's on the Donna Teresa system in Brazil when line working was just coming to an end. The loco in the lower photo had just been out-shopped with L.D. Porta modifications, September 1987
Many of these Skoda's survive today.
---
In December 1991 I was in India where steam still worked on three gauges, Broad 5' 6", meter, and the narrow gauge 600 mm hill railway to Darjeeling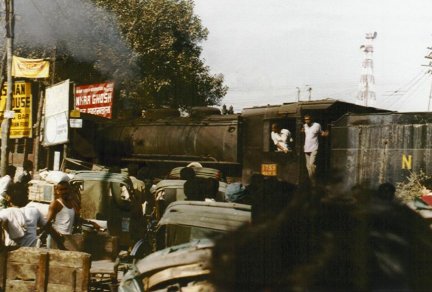 A US built MAWD passing a sea of humanity near Silguri, in North East India
---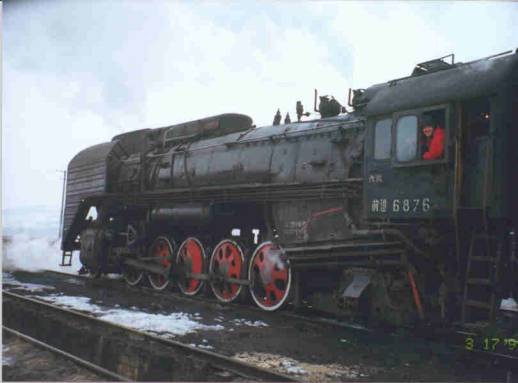 Sitting at JingPing on the JiTong line, Inner Mongolia waiting for the road with a double headed 2,000+ ton train, March 1999. Loco is QJ class 2-10-2 6876 built around 1985
Click here to see a video of these locos working this line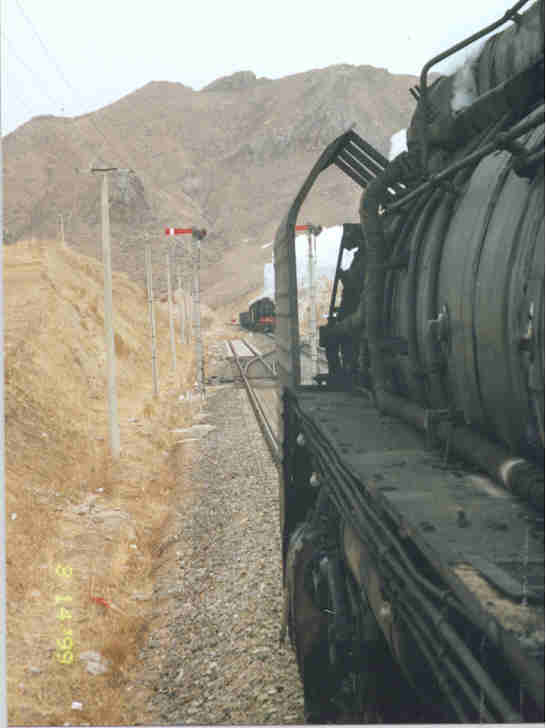 Drivers eye view of the road, on the same locomotive waiting in the hole for the train in the distance to pass, JiTong line, Inner Mongolia, March 1999
---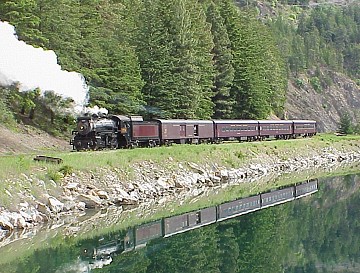 The very last steam excursion on BC RAIL (British Colombia, Canada) was in May 2000, We went, had a great time, even got a cab ride! This is 3716 backing up for a photo run past at Anderson Lake.
---
I've become a Garratt enthusiast over the years, particularly for the East African 59th class, the Zimbabwean 20th class, examples of which survive in operating condition, and the New South Wales, Australian AD-60 class of which four survive as static exhibits. All three classes were built in the mid 1950's by Beyer-Peacock in England.

In 2001, I traveled for hundreds of miles in the cab of 15th, 16th and 20th class Garratts and the S.A.R 25th class during a four-week visit to Zimbabwe.
15th class 4-6-4 + 4-6-4 Beyer-Garratt #406 running along the Dete straight which is also the western border of the Hwange National Park at well over 100 K.P.H. with Elephant, Kudu, Wildebeest and Monkeys crossing the track, July 2001.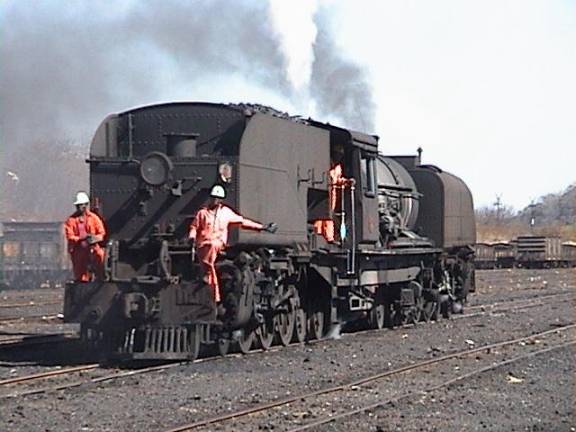 15th class 4-6-4 + 4-6-4 Beyer-Garratt at Thomson Junction to collect coal empties for Wankie Colliery, Zimbabwe July 2001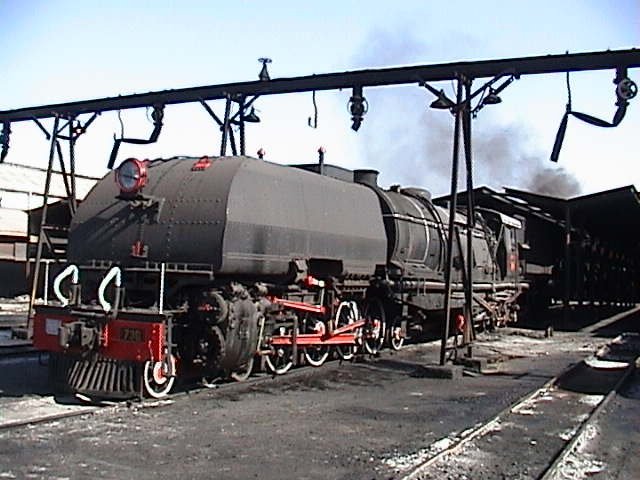 20th class 730 at Bulawayo Steam Shed July 2001 prior to my round trip cab ride to Plumtree on the Botswana border with a revenue freight.
---
In August 2001, I joined a team of retired East African Railway (E.A.R.). employee's in Nairobi, Kenya.
We pulled former E.A.R. class 59 Beyer-Garratt 5918 "Mount Gelai" out of the Museum and eventually returned it to working order.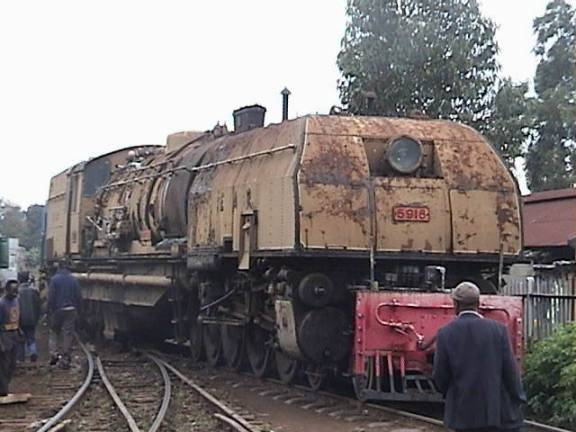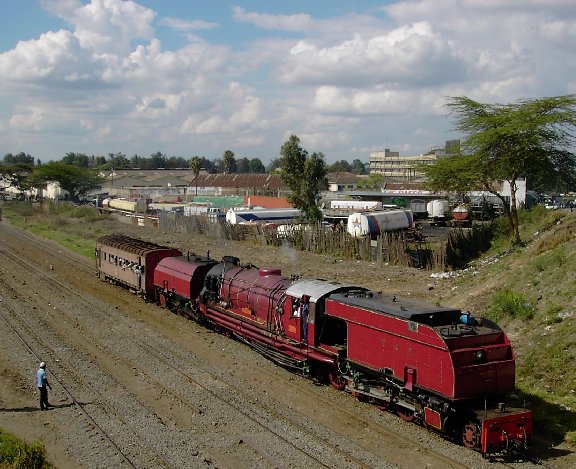 First test run
By December 2004 5918 was in excellent condition. Seen here at Athi River on a freight working.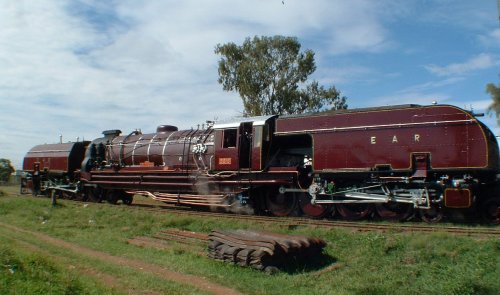 I was able to achieve a lifetime ambition and drive this magnificent locomotive during my second visit to Nairobi.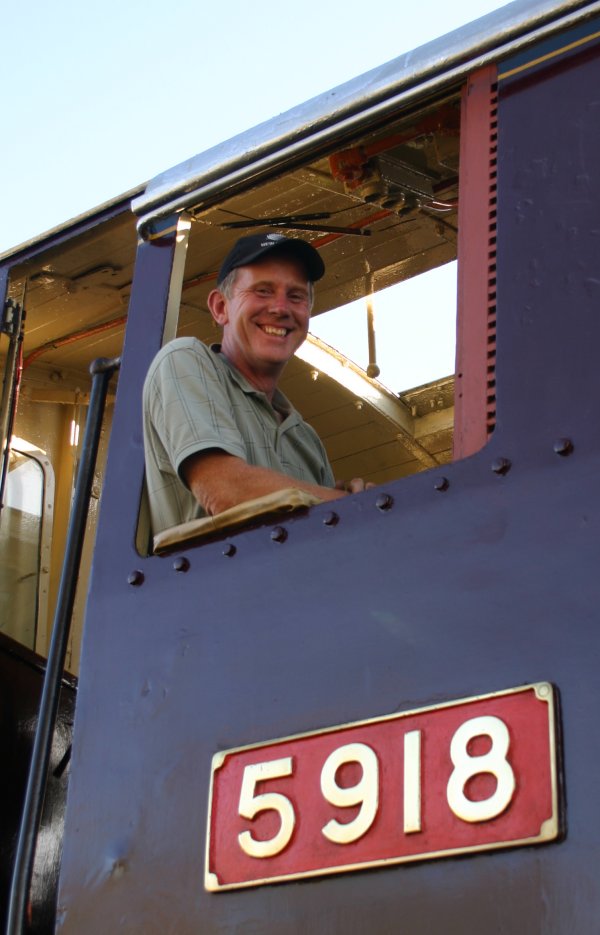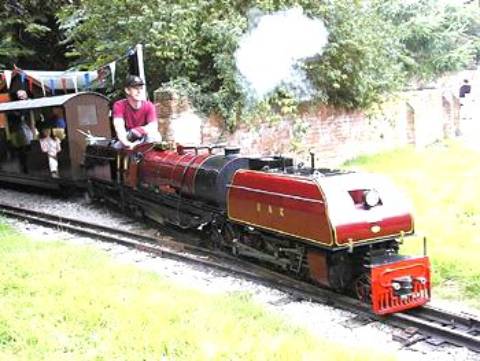 Passenger hauling on the Weston Park Railway in England with the 2" scale, 7.25" gauge, E.A.R. 59th class Beyer-Garratt 5927 "Mount Kilimanjaro" in September 2001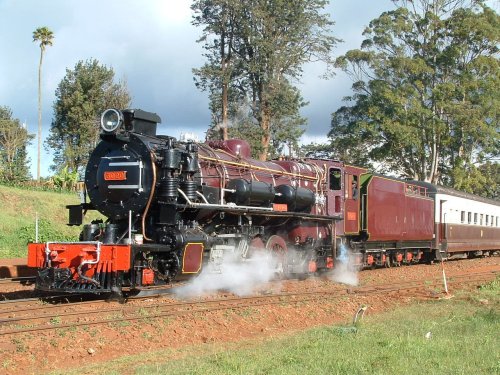 In 2003 5918 was joined by this 2-8-4, 30 class 3020. Also rescued in decrepit condition from the museum. These locos can operate passenger excursions and the occasional revenue freight out of Nairobi.
She is pictured here in December 2004 at Kikuyu.
5918 and 3020 were joined in service by 4-8-0, 24 class 2409 which we dragged out of the museum in December 2004. Seen here on a revenue freight to Theka in August 2006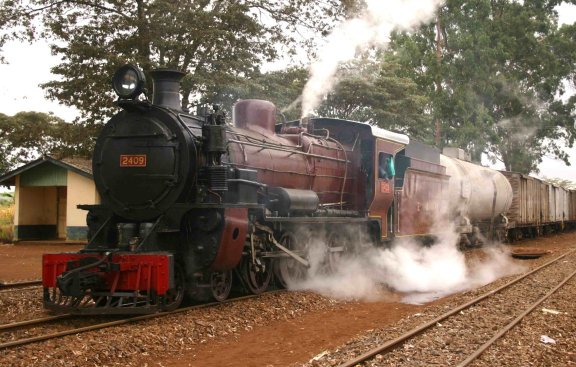 ---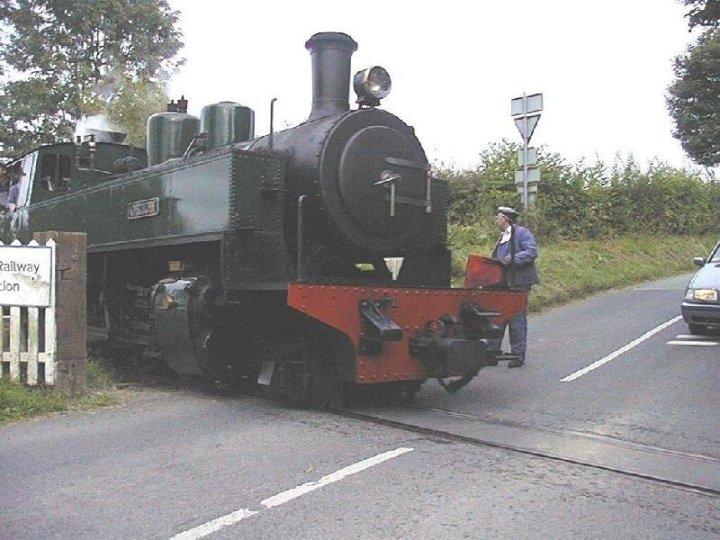 Belgian locomotive "Orion" on the Welshpool and Llanfair Railway in Wales on the occasion of my guest driving turn.
This loco is now in Finland
---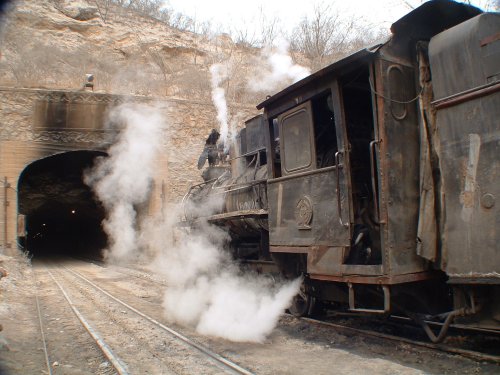 In March 2005 I was back in China where driving working steam at a limestone quarry was then possible.
The driver of this train stopped and picked me up from the side of the track from where I was just standing and watching the action...
By June 2005 this line was closed.....forever!
In January 2007, loco #4 built in 1988 from the same railway, was moved to North Wales where it is hoped it will be returned to service.
---
My personal locos are this 1.5" scale, 7.5" gauge, Chinese "Victory" class Pacific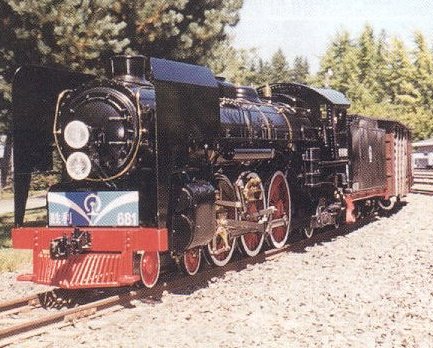 Currently under construction is this 1.5" scale 7.5" gauge 14 foot long 4-8-4 + 4-8-4 NSWR (Australia)
AD-60 Beyer-Garratt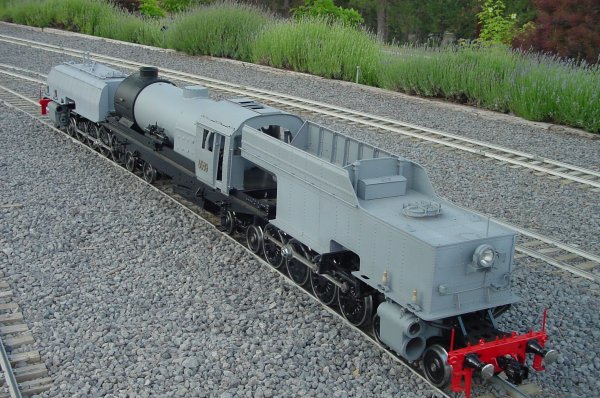 We recently rebuilt this EMD FP-45 from a worn out hulk to a state-of-the-art battery powered electric.
We often loaned it to visiting enthusiasts without a drive and, for hauling the public when visiting various tracks in our area of the world.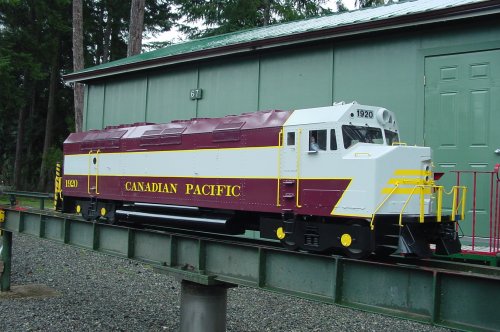 The FP-45 now belongs to the BCSME in Vancouver, Canada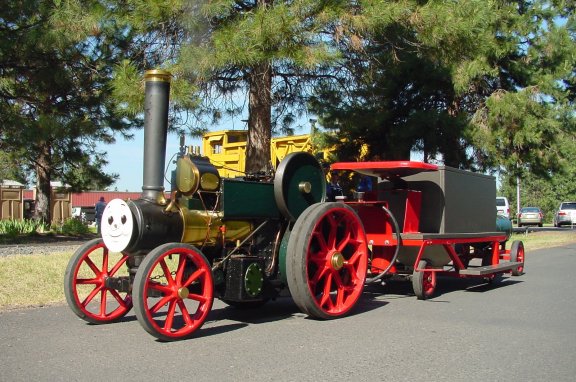 Built by my Father, we also operate this 3" scale Aveling and Porter Traction Engine.
---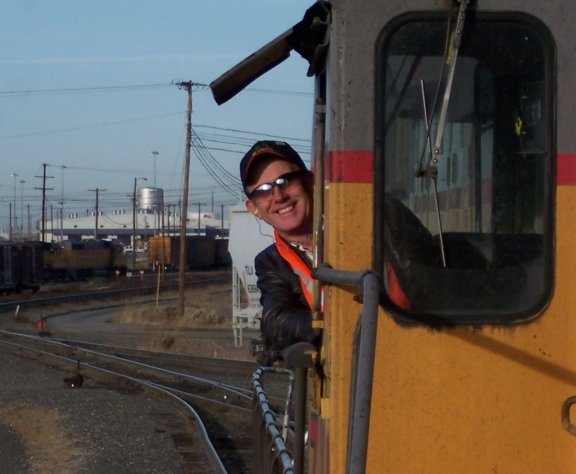 I worked for the Union Pacific Railroad in 2006-2007
click here to see more images
---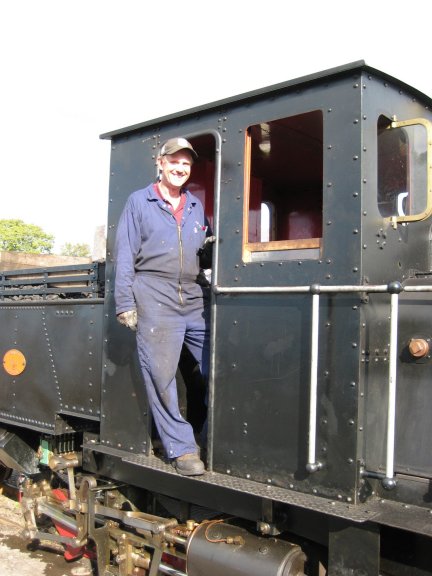 In late September 2007 I worked on the Welsh Highland Railway both as a volunteer in the loco shed at Dinas and on a track laying gang. This coincided with the completion of the conversion of the worlds first Beyer-Garratt, K1 to coal firing. The image above was taken after the first loaded test run on which I was given the privilege to light up and fire the loco.
.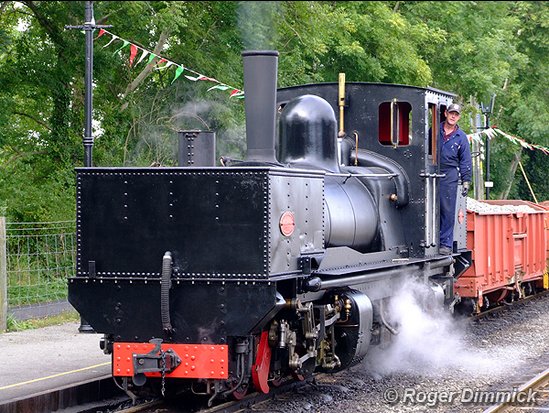 Arriving at Dinas station on K1 with a loaded ballast train, September 7th 2007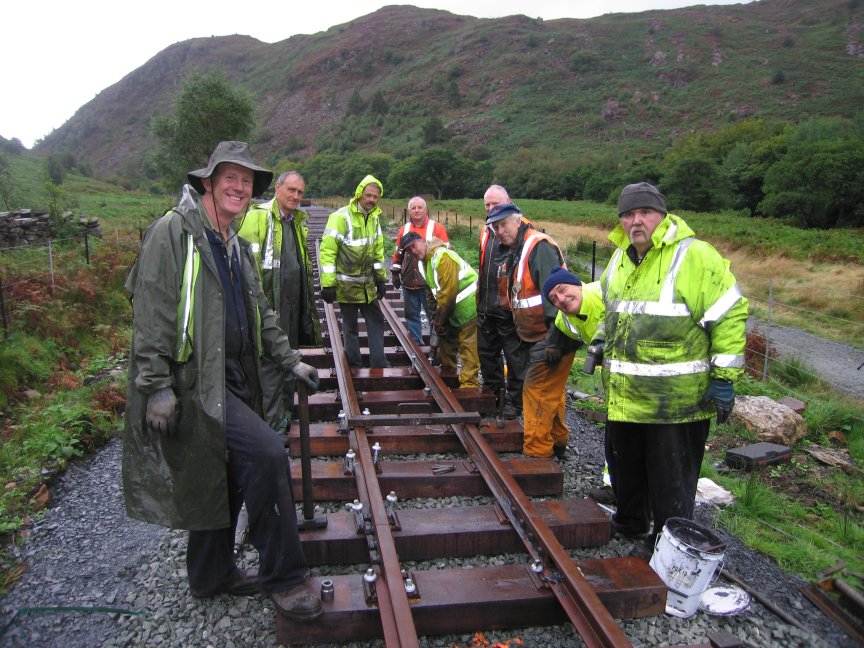 Track laying on the Welsh Highland Railway
September 2007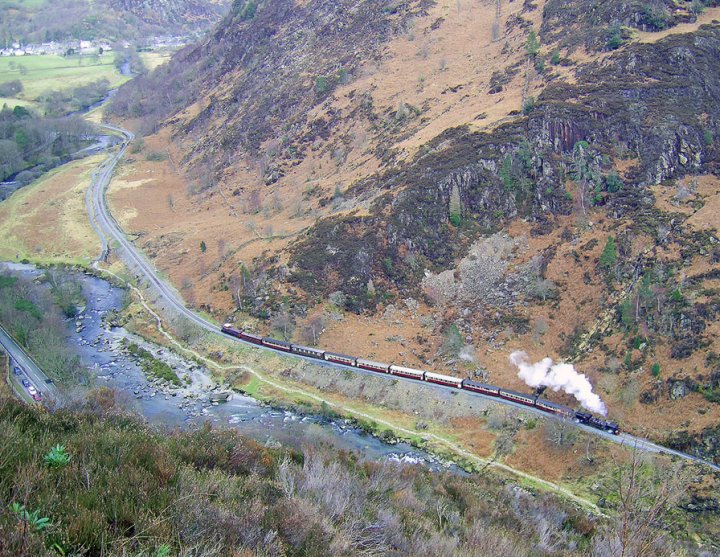 The image above of the track laying gang was taken just behind the train above just 6 months earlier
Alistair Stewart image, May 2008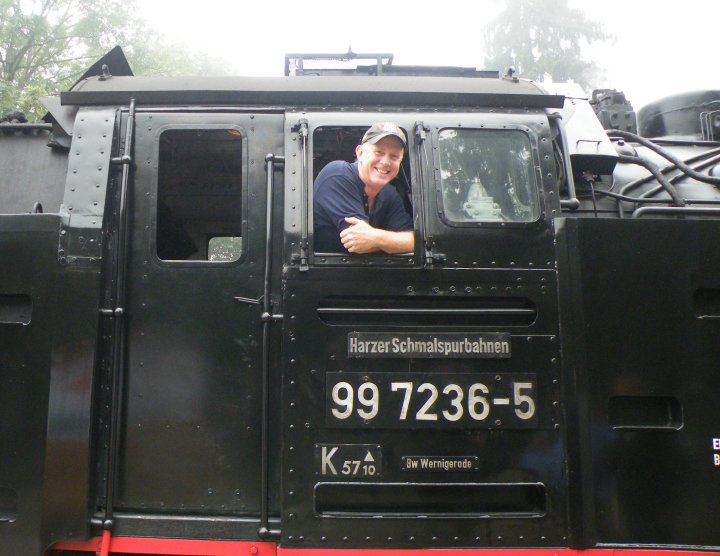 In September 2008 we spent 5 days on the HSB in eastern Germany
Because of an amazing sequence of events and timing and above all because of the generosity of their owners/custodians, in this decade, I've been privileged to drive the first Beyer-Garratt (K1) the last (NG/G16, 143) and the largest (EAR 59, 5918), both prototype and ride-able miniature scale.
Other interests include travel off the beaten path, Sailing Motorcycles, Fuel economy, Photography, and anything powered by a Rolls-Royce Merlin!
We live in Port Orchard, Washington USA
If we share any common interests, I'd like to hear from you.
trevor dot heath at livesteaming dot com
---