Steam and Steel
Hamilton, New Zealand
January 2004
Folks from many countries visited the Bi-annual New Zealand Live Steam convention held in Hamilton during January. We, and I'm sure everyone else too, had a great time The photo's shown below of course are just a small sample of all the loco's attending. The work put in by the host club was, I can only guess, a huge effort. The track, located in the corner of a large public park is designed to move people. It is possible to have simultaneous departures on four tracks from the station. Which as you can imagine, in our hobby is quite a spectacle.
This was our first visit to this beautiful, quiet and friendly country. This country of just four million people can boast an amazing variety of steam activity from full size steam locomotives running between the major cities on both the North and South Islands to a steamship still plying its trade on the lake where it was launched over 90 years ago. To an abundance of road going Steam Tractors, called Traction Engines in some countries. Equally impressive though is the Live Steam scene, several aspects of which really stand out. One is the Civil Engineering undertaken to produce some of the most impressive tracks to run on in the World. Another is the influence of two men on the growth and development of the hobby in the past two decades. Harold Sinclair and Dave Giles. Examples of their influence, Harold's very large scale locomotives which dominated the convention this year to Dave Giles very simple modification some 15 years ago to passenger cars bogies (trucks) to minimize the impact of a derailment. An idea which has now been pretty much universally adopted in New Zealand. To his locomotive for 7.25/7.5" gage the "Phantom" of which 42 have now been built or are under construction. Third is the shear depth of skill of the model engineer's we met. We saw manual lathes and mills converted to full CNC, a workshop where 90% of the machines were home built including OD/OD grinders, Cutter grinders and a Vertical Boring Mill, a scratch built 1.5" scale pacific under construction with Caprotti valve gear and a whole lot more.
Hospitality everywhere
I'll never forget being taken to Harold Kemp's house by John Newlands who himself had come and picked us up at a moments notice to show us his workshop, beautiful fire pumper and steam boat after being told we were in town. I asked to photograph a working, gas powered Road Roller I had spied up on a shelf in the corner beyond at least two GWR steam loco's, As I'm taking my photo's, his wife was trooping out of the house carrying armful's of stationary steam engines for me to see and photograph.
Again in Christchurch the very next day, we went to the local club, the Canterbury Model Engineers on a regular run day, we were immediately offered a drive of a 1" scale 5" gage Britannia followed by tea. We were then taken by VP Jock Miller to view their new ground level facility where CANMOD 2006 the next bi-annual convention in 2006 is to be held. Green field to working track in 6 months! It was then was off to see a workshop full of home built machine tools and diner. And so it went on, everywhere we went.
See the links at the bottom of this page for additional pages on our New Zealand live steam experience.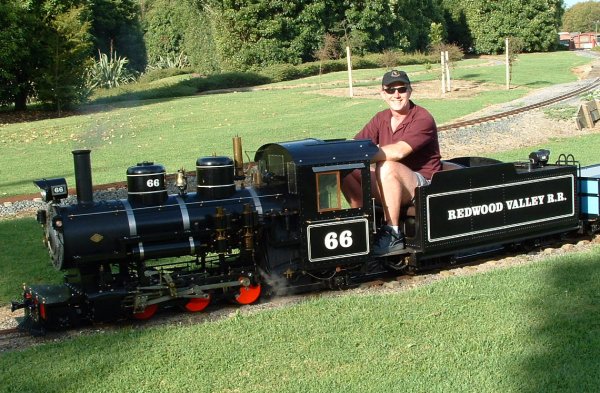 Gavin McCabe was very generous with his loco all weekend It runs as well as it looks. A Harold Sinclair Locomotive with additional work by Gavin.
Chuck Hackett from Nebraska, USA driving Dave Giles 4" Scale Shay.
Driving Ian Welsh's Beyer-Garratt, double heading and running bunker first, a great experience. Both locomotives built by Harold Sinclair. Note the full size Signal box in the background. Public passenger hauling was a big part of the convention. Thousands took the opportunity to come out for a ride. There were even banners across the main street in town promoting the event.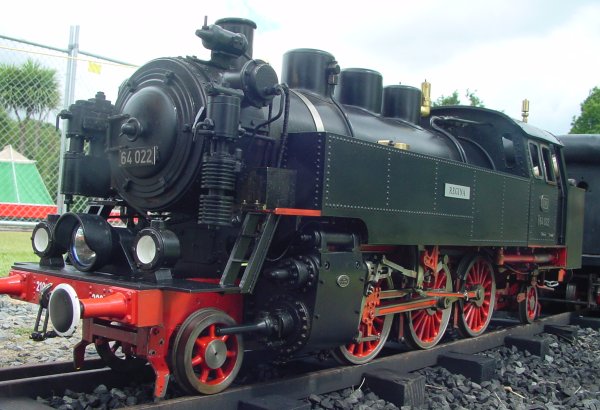 German Tank Loco on 3.5" gage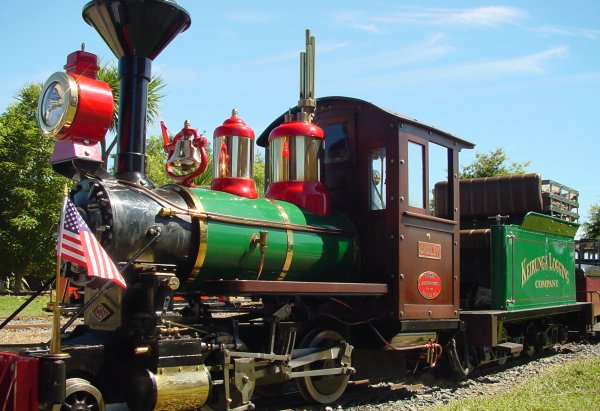 Keith Watson designed "Little Lima"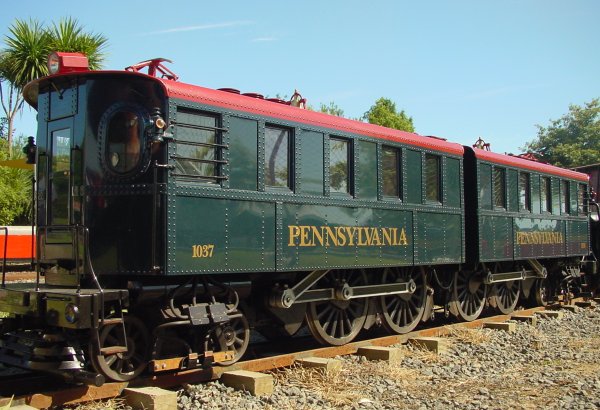 Beautiful Pensy Electric, Wonderful to watch rolling along with those side rods flying around.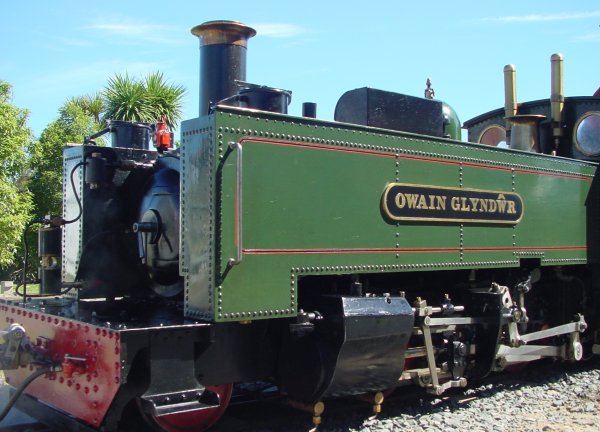 Welsh Narrow Gauge Loco of the former Great Western Railway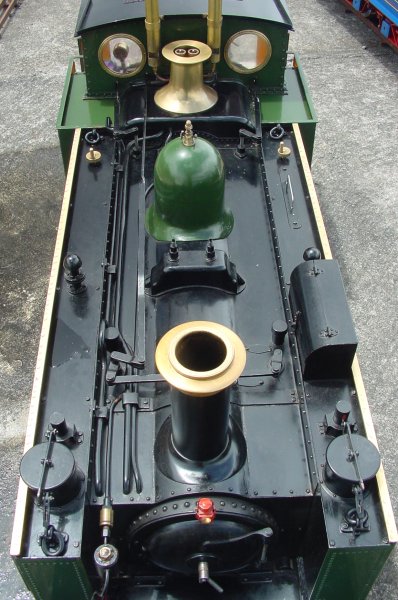 Top View of the same loco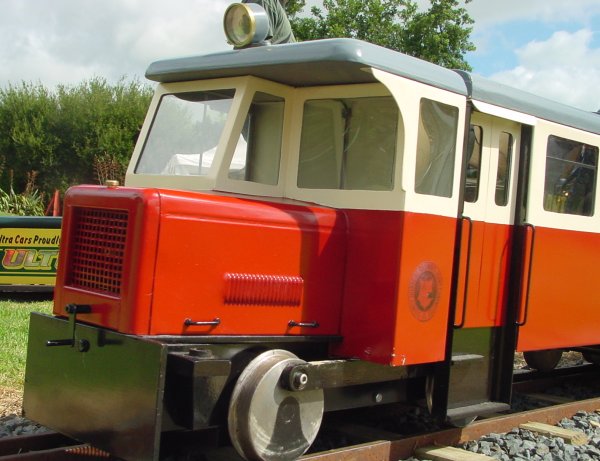 Irish Rail Motor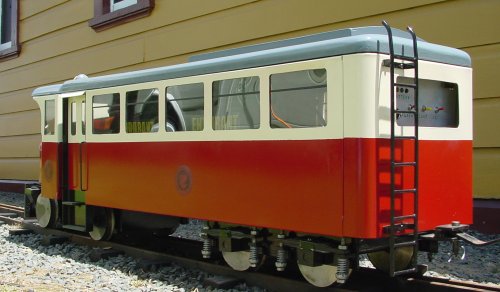 Rear view of the same Rail Motor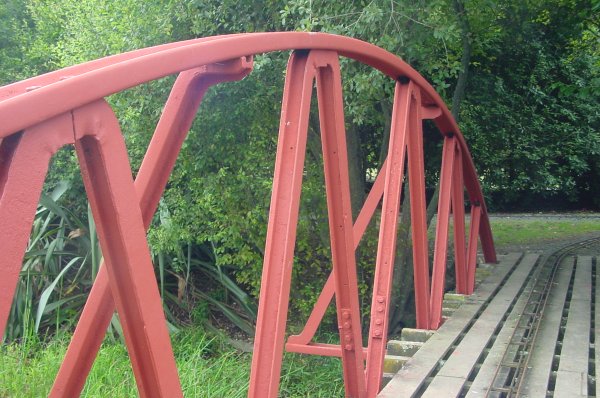 Girder Bridge built from 1890's "Bull Head" rail
Another view of the S.A.R. NG-16 Beyer-Garratt
The Garratt "Office" Keith Betts photo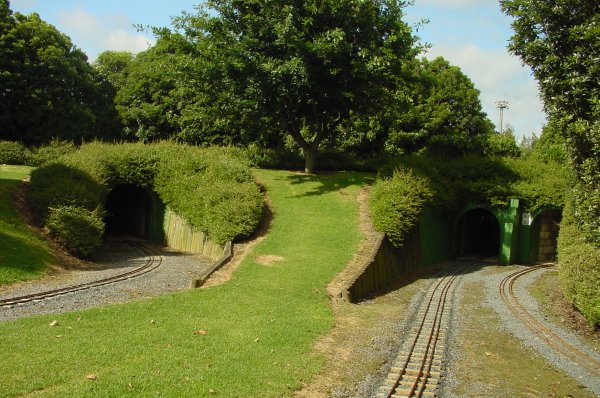 Beautiful landscaping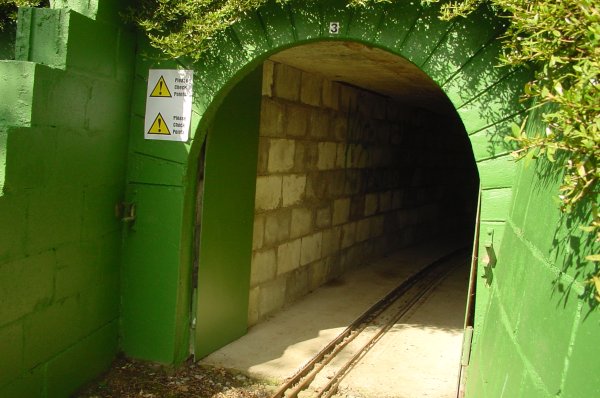 Tunnel has lockable doors both to keep people out when the facility is closed and, to store rolling stock ready to use at the start of the run day.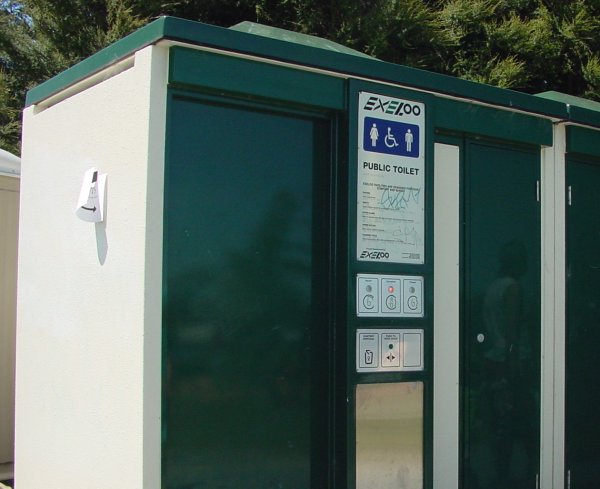 Impressive computerized "Bog". Music, auto flush, auto paper dispensing and...auto door opening after ten minutes regardless of where you are in the "process". Enter and stand outside waiting your turn at your own risk!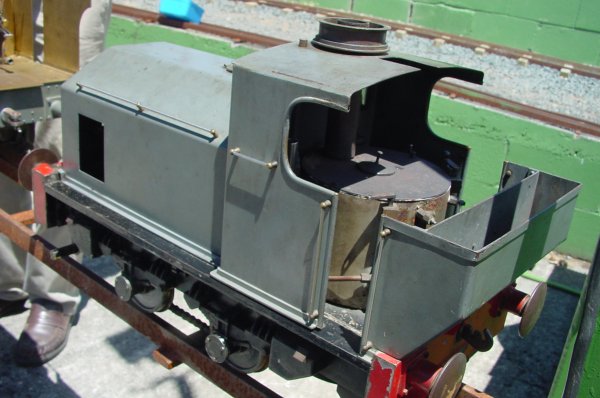 Sentinel Vertical Boiler Locomotive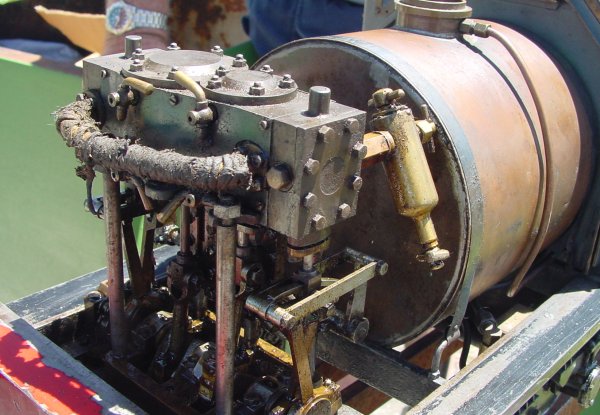 View of the actual engine unit of the Sentinel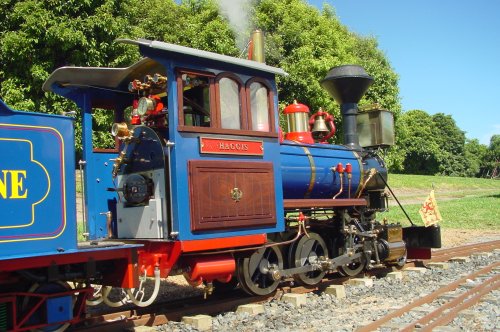 Keith Watson designed "Little Mogul" built by Jim McClean
Hauling the public during the convention. Keith Betts photo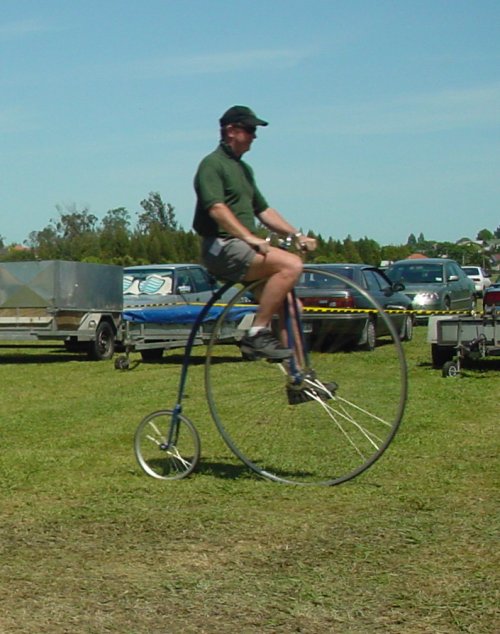 A long time ambition of mine was to ride a Penny Farthing Cycle. I was able to ride this one in the car park at Hamilton. It was indeed an experience. Both getting on and the steering were "interesting". We got along OK and made a couple of laps of the available space without crashing, much to the amazement of the owner and spectators.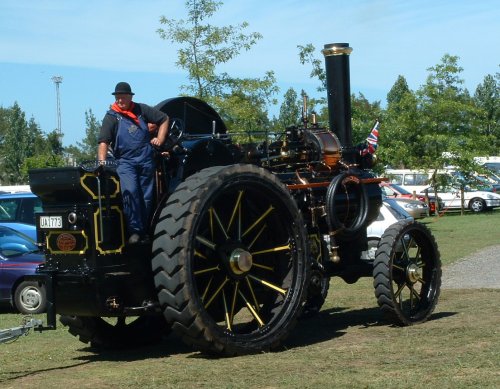 This full size traction engine was one of two giving rides all weekend. It was one of the best finished locomotives I've ever seen. The polished brass and lined out black paintwork was a superb contrast. Check out the Drivers bowler hat too.
---
Keirunga Park Railway
Havelock North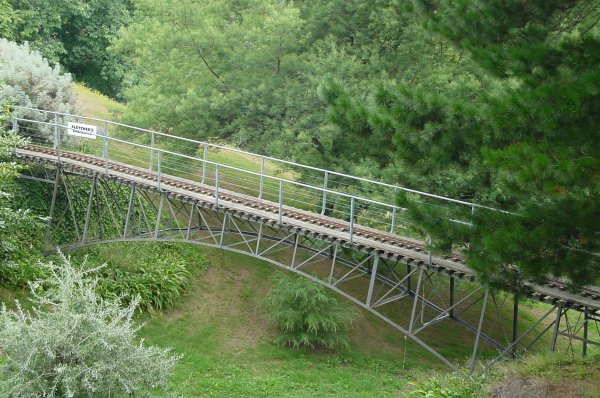 Click here
---
Kapiti Miniature Railway
Raumati Beach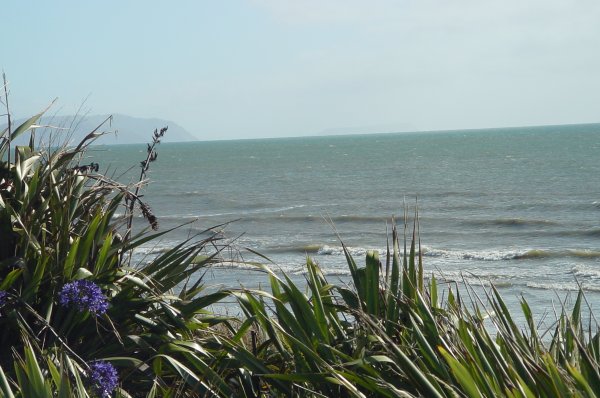 Click here
---
Canterbury Society of Model & Experimental Engineers
Christchurch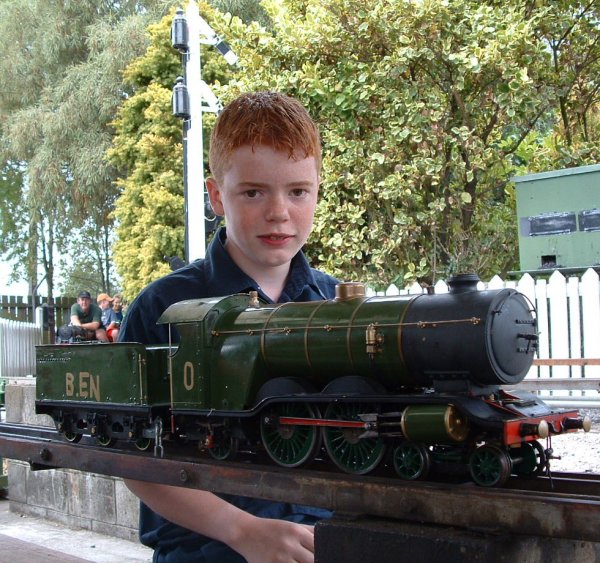 Do you know where the future of your club lies? Tim Auton with his Atlantic
Click here
---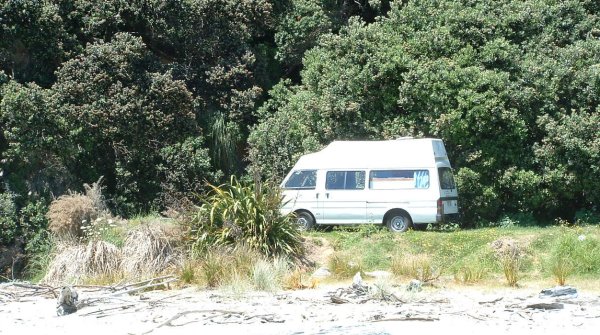 Our wheels and accommodation for the three weeks in New Zealand, we pitched up on the beach in many locations.
---