Geo Metro XFI Project Vehicle
(A Suzuki Swift built under license in Canada)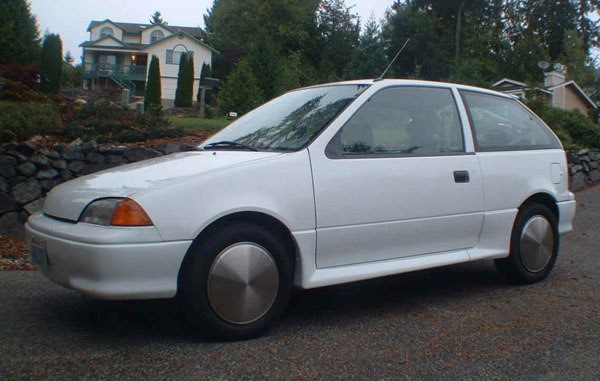 A 1992 Geo Metro XFI with a modern US federal EPA mileage rating of
43/51 mpg (46 average) per US gallon.
The initial mpg goal for my car was"60/60" (60 miles per US gallon at 60 miles per hour). Modifications are listed in four categories:
The weight of the car is 1582 lbs (with no fuel, spare wheel, or jack on board) and a driver weight about 205 lbs.
Driver Aids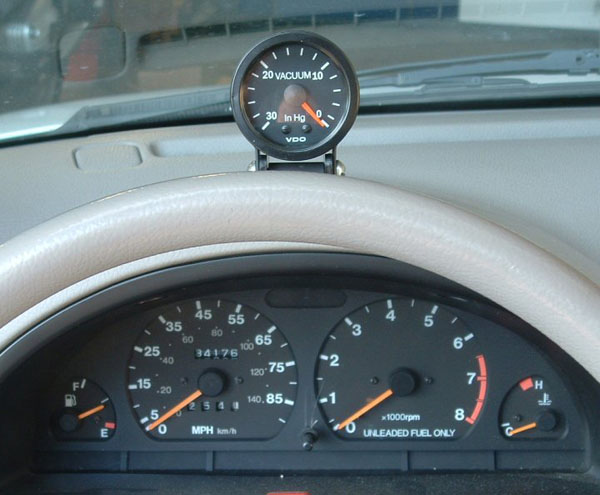 The single largest area for improvement in any car is driving technique.
Shown here is the replacement instrument console with tachometer. Vacuum gauge shown above.
Not attached to the car except to charge it up, but probably the best driver aid ever devised is of course the GPS...
and....
Remember: "Every time you press the brake pedal you are wasting gas"
---
Aerodynamics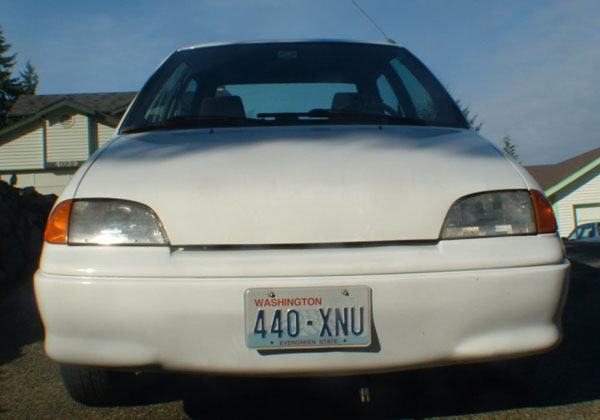 Front profile showing no outside mirrors, flush headlights, 100% front grill block, turn signals removed from front bumper and incorporated in the amber pods next to the headlights. Side skirts can be seen in the image at the top of the page. Electrical connection for the 110V coolant heater can be seen below the bumper.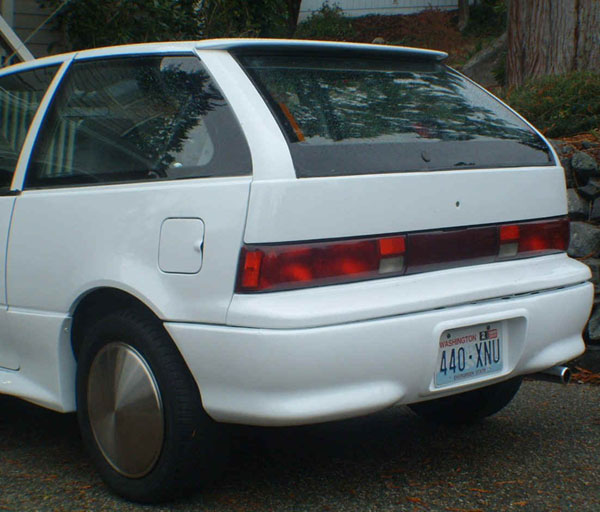 Rear showing spoiler on top of the hatch to "kick" the air stream off the rear window
Internal drivers (and passenger) side mirrors
Note: The law here in Washington state requires a mirror on the left side of the car. It does not however, have to be on the outside of the car. I have a letter from the Washington Highway Patrol to this effect and have not been stopped by a patrol officer including the one that drove alongside me one day for over a mile having a good look at the mirrors. ...
Your state may have different requirements.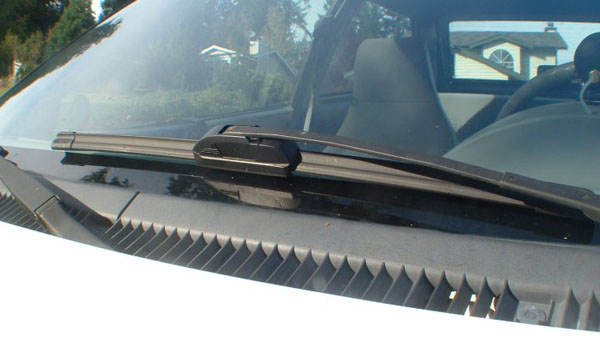 Bosch "Icon" wipers
---
Friction reduction
Mobil 1 0-30 synthetic engine oil
Mobil 1 ATF Synthetic transmission oil
New, full set of SKF wheel bearings lubricated with Mobil 1 synthetic grease
Pirelli P3000 175/65-14 tires inflated to 50 psi
Four wheel alignment with "zero toe"
NanoLube added to engine and transmission
Note: Tire dia is 22.96 inches. Stock tire dia is 21.1 inches (+ 8.85 %)
---
Powertrain Modifications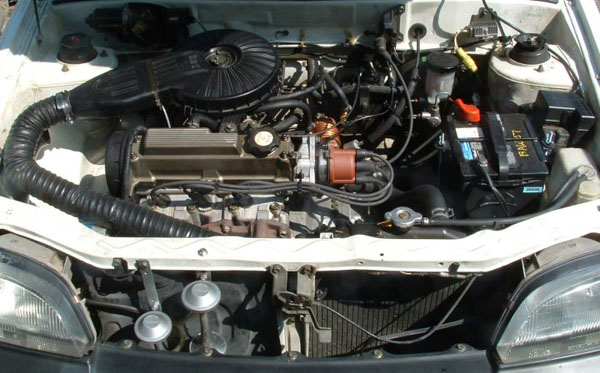 Engine compartment showing cooler air induction for summer driving to reduce spark knock (pinging)
Engine compartment showing warmer air induction for winter driving (now in use, October)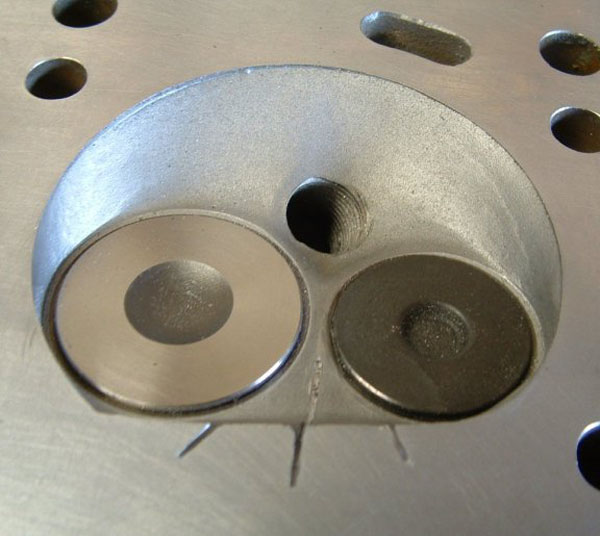 Combustion chamber showing new valves and the three "Singh" grooves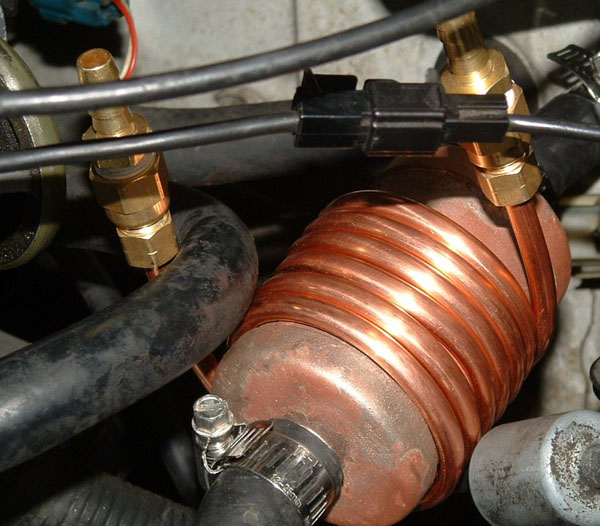 .
Fuel warmer (not connected)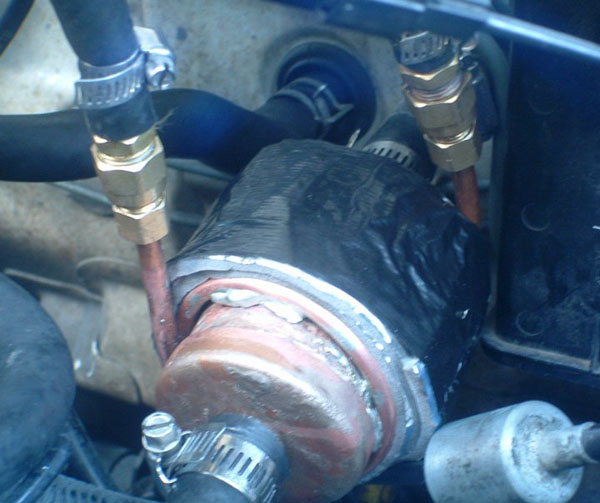 Fuel heater connected.
Coil now somewhat crudely soft soldered to the body for better heat transfer and, some basic insulation added.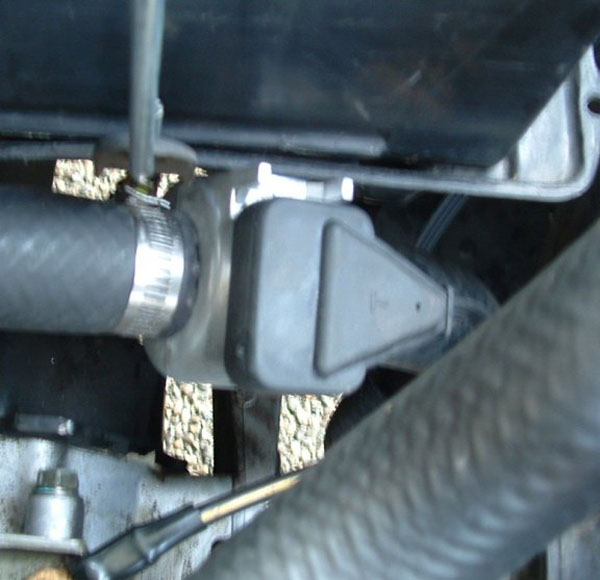 110V 25W KAT coolant warmer (recently changed for a 850W canister type also from KAT which is simply superb)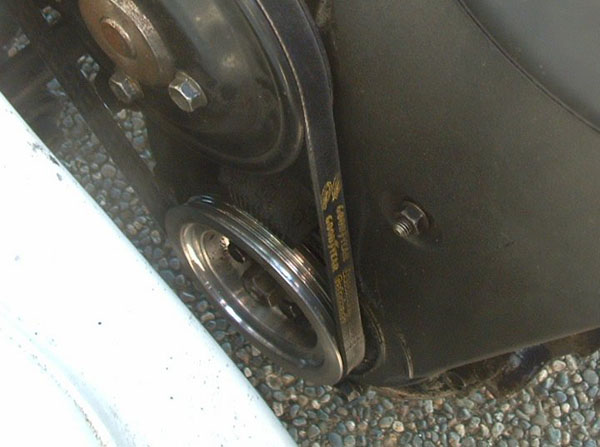 Single row light alloy under-drive pulley.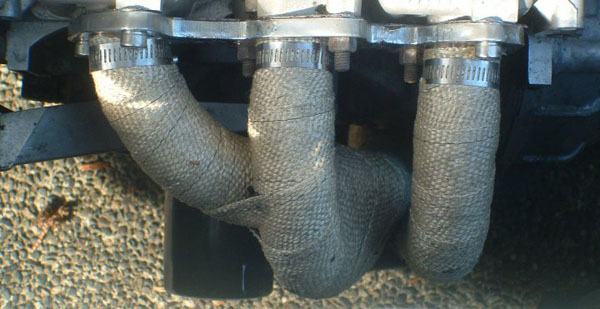 Tuned exhaust manifold (header) wrapped and leading into a 2" dia exhaust system with 4-wire (grounded and heated) O2 sensor.
Also shown is the high capacity Mobil M1-209 oil filter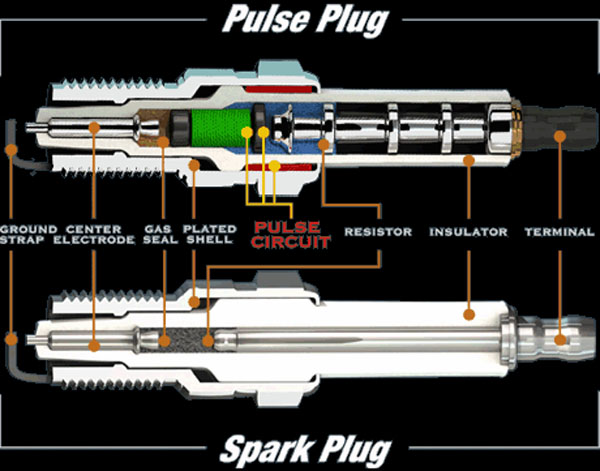 Pulstar capacitor discharge Spark Plugs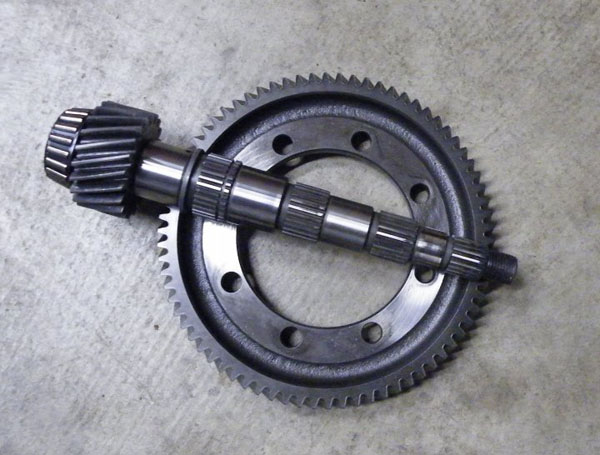 3.52 final drive gearing (74/21) taken from a New Zealand 1.3 liter 4 cylinder Suzuki Swift.
An approx 8.5 % change over the 3.85 stock XFI gears.
Car now turns 2400 rpm at 60 mph in 5th gear
---
Results
(in US gallons add approx 20% for imperial gallons)
Getting to 60 mpg was quite easy.....the march to 65+ mpg not quite so and may not happen.
Typical results per tank of fuel on my daily commute * during the summer months is 60.5 to 62 mpg with a worst of 59.75 and a best of 62.41 driving at 60-65 mph for about half distance and 40 mph average for the rest.
A 415 mile run on the freeway (I-5 Washington and Oregon) at 60-65 mph with two adult riders (total weight approx 350 lbs) during the summer returned 60.11 mpg
So it would be fair to say I currently have a 61 mpg daily driver.
A 30% improvement over federal EPA numbers
* 54 miles from Port Orchard to Enumclaw. 25 miles of fairly level four lane highway, a brief section of congested freeway, a long fierce hill and about 25 traffic lights on two/four lane highway of which I generally have to stop at about 6-8.
Current MPG (November 2008) with some effort, especially keeping the engine warm when not in use utilizing the 110V heater, remains at a pleasing 60 mpg. This would indicate that next summer 65-67 mpg will be obtainable with the latest improvements. Possibly even 70 mpg highway with the new final drive gears installed.
A trip to Wilsonville, Oregon . 379.5 miles door to door. Temperature was 48-50F with some rain showers. 95% freeway, driving at a steady 60 mph I used 6.114 gallons.
62.07 MPG. Total cost for fuel that day.... $13.38 USD
---
Road Trip
In July 2009 my daughter Elizabeth and I made a 6,000 mile road trip from Port Orchard to Durango, Mexico via Guaymas with return via La Paz. Car ran faultlessly and returned approx 55 mpg with all of our gear, tools, spare tire, jack etc. and souvenirs on board.
This image shows the car with 250 miles on the odometer trip at 70 mph (corrected as we are using 14" wheels and a 17T speedo gear) and 2900 rpm, pulling almost 10" of vacuum.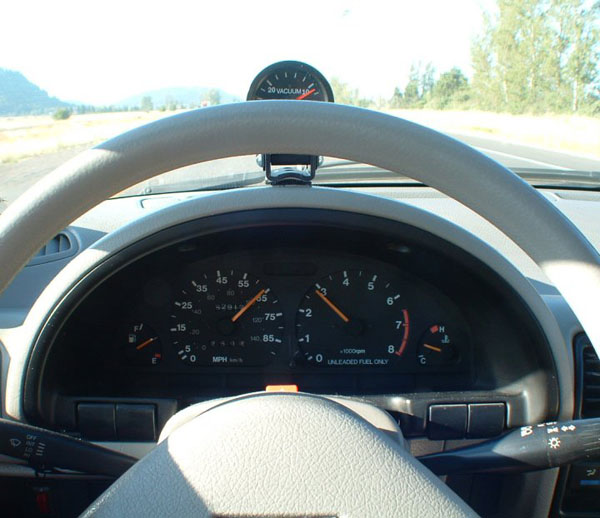 Not too many places in the world that one can drive to and take this image..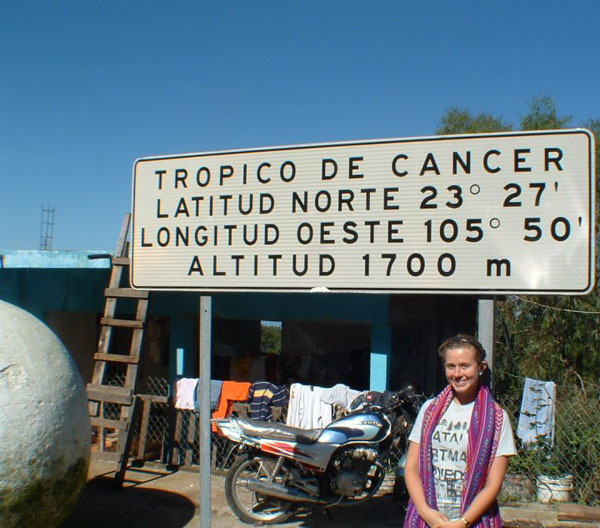 To reach Durango from Mazatlan one has to drive up the "Spine of the Devil" highway. It climbs 6,000 feet in about 40 miles. It is not that difficult a road mainly, 2nd gear in the metro (3.52 final drive) but is fraught with danger from class A trucks swinging out or cutting the corners and falling rocks. Oh and the occasional cow or donkey wandering about.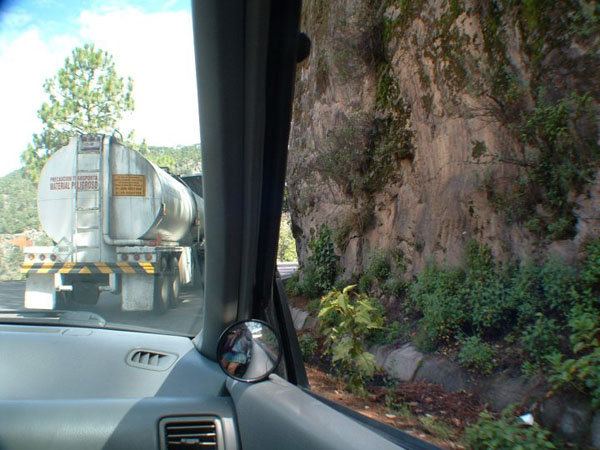 Boarding the ferry in Mazatlan for the overnight crossing to La Paz in Baja Sur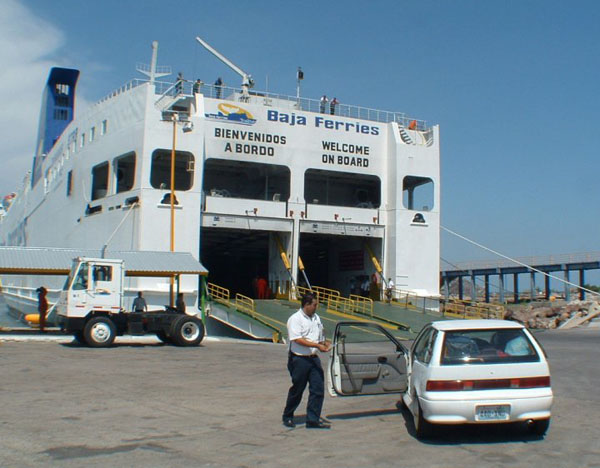 Near Eureka, California and 500 miles from home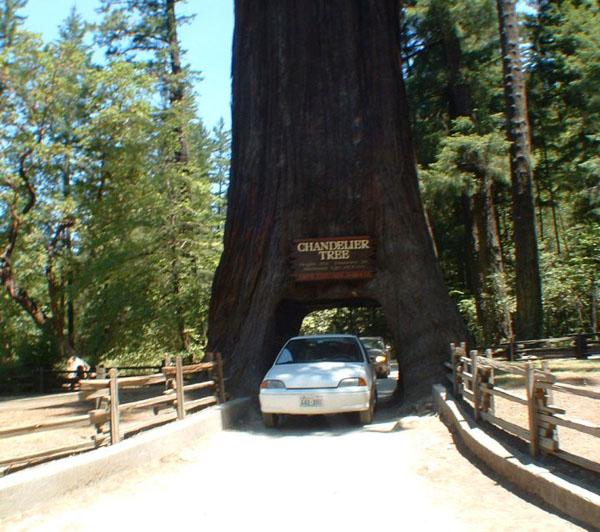 ---
References and thanks
en.wikipedia.org/wiki/Fuel_economy_in_automobiles
www.herningg.com/singh/Engine%20Running%20Tests%20Analysis.pdf
www.fueleconomy.gov/Feg/noframes/8704.shtml
www.recumbents.com/car_aerodynamics/
Somender Singh, Mysor, India (Much advice)
Pete Rogers, New Hampshire, USA (Parts and Advice)
Skip Irving, Enumclaw, Washington USA (Parts and advice)
Travis Weigel, Enumclaw, Washington USA (Machining)
Geoff Robinson, Port Orchard, Washington USA (3.52 transmission rebuild)
Brenton Netz, Minneapolis, USA (Parts)
Carl Christy, Medford, Oregon USA (Advice)
Chris Taylor, England (Advice)
Bob Wyant, Graham, Washington USA (bodywork)
Derek Hartley, Christchurch, New Zealand (3.52 final drive gears)
Rick Thompson, West Virginia, USA (4-wire O2 sensor information)
Glenn Peterson, Redmond, Washington USA (Much advice)
---
Epilogue
I bought the Metro to prove a point. Reality is, everything I've changed on the car has been done before by others and everything is a compromise. For example, I can no longer drive the car across Death Valley in August at high noon. I doubt I could start off on some of the hills in San Francisco. But then I do not intend to do either....
I was just disgusted with the cost / mpg available with the new cars currently on offer. I drive by the Ford dealers and just laugh when I see a Ford Focus with a banner on it stating "Got 35 mpg?" Ford deserve to go down, especially after selling the "Think" electric car company.
I had wanted to buy a Honda Insight, the first Hybrid sold in the USA (from 2000 to 2006)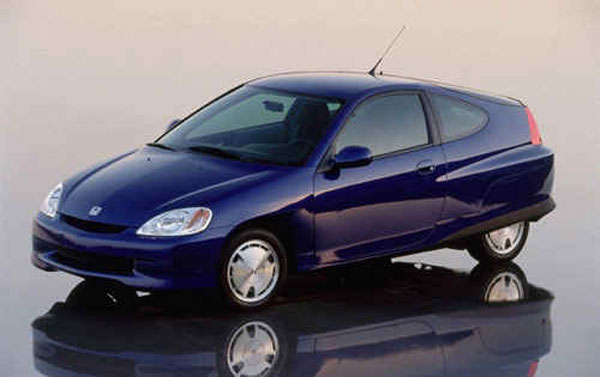 http://www.fueleconomy.gov/Feg/noframes/21632.shtml
Technically an amazing car that did not gain general acceptance even with 70 mpg highway EPA numbers, probably because it is only a two-seater. We even went to the local Honda dealer in August 2006 to see if we could test drive one. By then though they were all gone.
Today later models sell used for about 15,000 USD
If we find one, for a fair price in good condition we may still buy it.
We then looked at the Toyota Prius which costs about 25,000 USD new.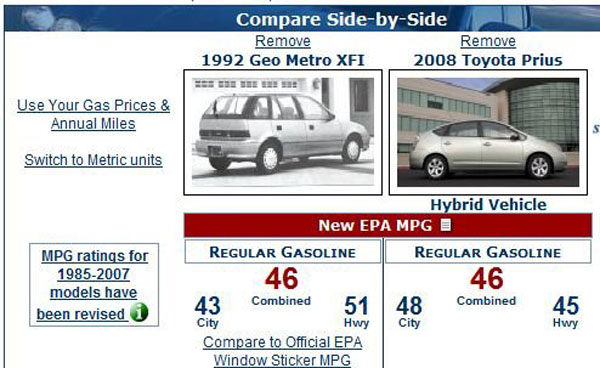 The Metro has cost about 4000 USD including initial purchase and modifications
The car is now in excellent condition and has now covered 25,000 miles in the configuration shown above. I intend to drive it until at least the year 2011 when a Toyota IQ, Think, Aptera or similar new fuel efficient (minimum 60 mpg per US gallon) or electric vehicle becomes available.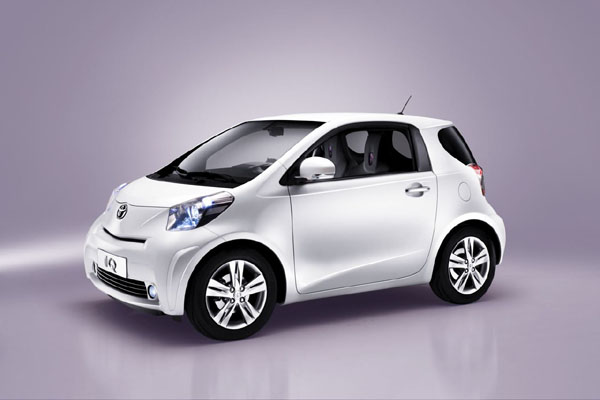 Toyota IQ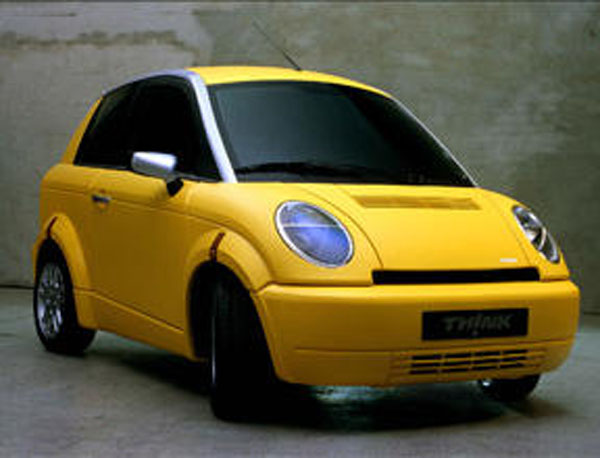 Think City electric car, 135 miles at 60 mph on a single charge
Even more range available if a Kaman Sterling engine is fitted.....see here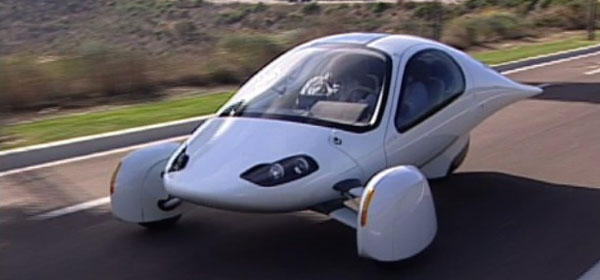 Aptera