Locomotives For Sale
---
---
12 1/4" Gauge Diesel locomotive, track and carriages for commercial or estate use.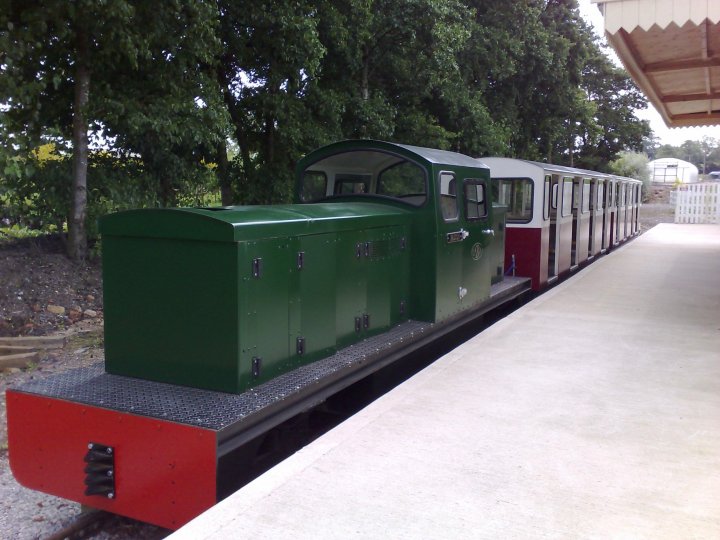 23 hp 3-cylinder Honda GD100 diesel engine with Eaton hydraulic transmission
Air brakes
Drive to all axels
Length 15 ft, width 3' 6" height 5' 6"
Weight approx 2 tons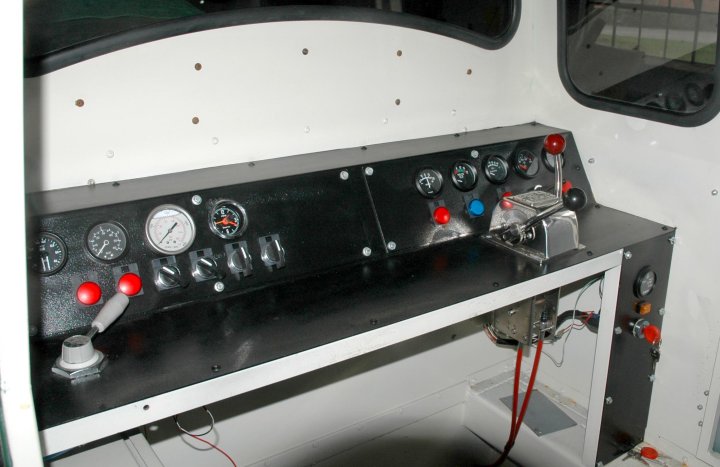 Roomy all weather cab with well laid out controls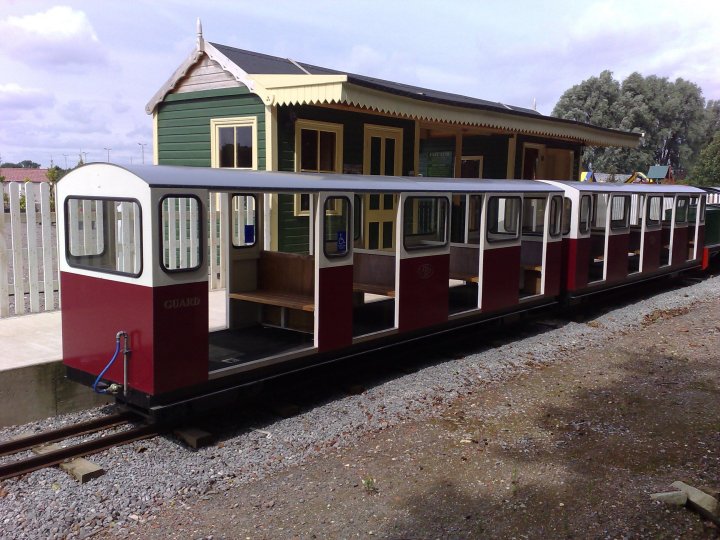 Two covered and glazed coaches, seating for 30 persons or 28 persons and one wheelchair
Coaches are 18 feet long, 3' 6" wide and 5; 6" high
Air braked on four wheel bogies
One additional chassis 15 feet long, 3' 6" wide, with two un-braked four wheel bogies (brakes can be fitting if required) suitable for an additional coach, goods wagon or even a caboose.
350 meters (approx 1140 feet) of track in assembled 6 meter (19.5 feet) panels plus an additional 100 meters (325 feet) of mixed curved straight track including sleepers (ties) and fishplates (rail joiners).
Rail section is S10 (approx 20 lb / yard)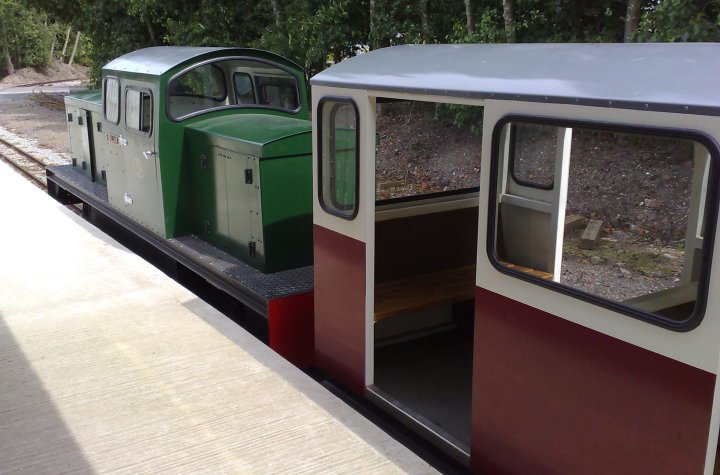 The equipment has been in light commercial use with total hours less than 200 since new. The locomotive is fitted with an hour meter.
Sensible offers around 75,000 GBP are invited for all of the above as one lot. Offers for individual items will be considered.
Set up and commissioning at your site. Lettering , naming of locomotive and carriages to suit entry into service all available by prior arrangement at time of sale.
Equipment is located in Shropshire, England.
For additional details or to arrange an appointment for viewing, please contact the owner:
Bruce Walley
Phone: 01952-805336 (UK)
011-44-1952-805336 (from overseas)
e-mail: bruce at westonrail.co.uk
---
Little Engines Hudson Locomotive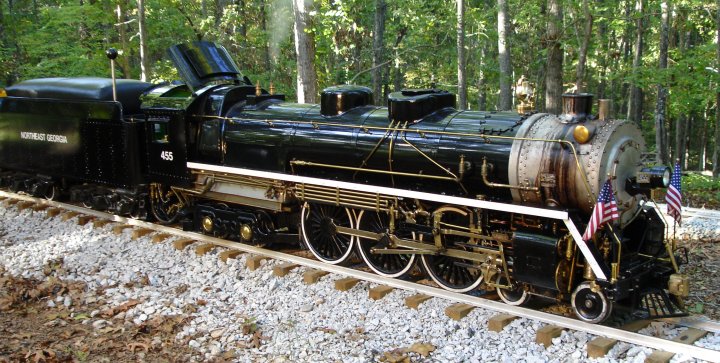 4-6-4 , Tender, and Service Box Car

Scale – 1.5" per foot (7.5" gauge)

Oil fired.

Boiler dia.10.75" by Alpha Boiler Co.

Boiler first fired April 2005

2008 boiler certificate issued by the State of Georgia

Diameter of Drivers 10"

Cylinder Bore 2.5"

Stroke 3 .5"

Valves 1.375" dia. Piston

Speedometer and Odometer (approx.160 miles on engine)

Walschaerts valve gear with bushings and pins hardened.

Rods and valve gear polished bronze.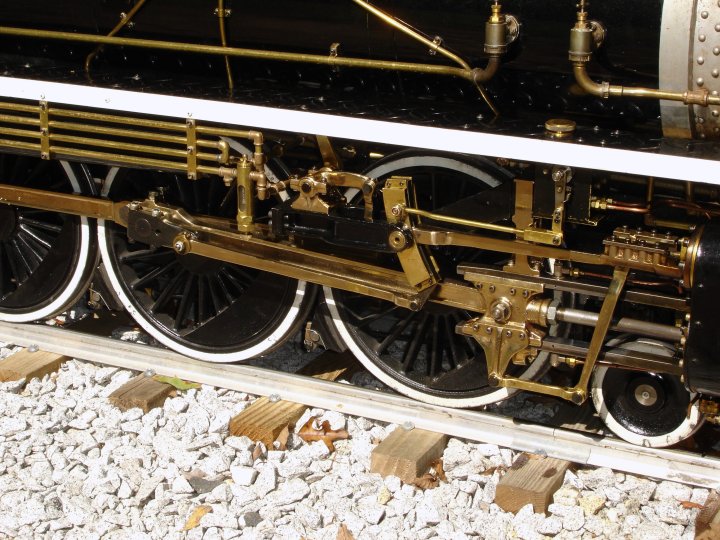 Engine weight 900 lbs. approx.

Loco well balanced; weight distribution, 125 lbs. approx. on each driver with 20 lbs. on each truck wheel.

Minimum turning radius 45 feet.

Keim steam driven water pump with a copper preheater loop in the smoke box.

Keim steam driven air compressor.

SuperScale Chicago style injector.

Water is also supplied by a double acting axle pump by Gene Lurwig and a standby pump by Loco Parts.

Steam operated cylinder drain cocks

Mechanical lubricators for cylinders/valves and crosshead guides with an oil reservoir for the two located in the sand dome.

Blow down valves and 1 ½" whistle provided by Loco Parts.

Both engine and train brakes are air which are both controlled by individual Clippard pressure regulating and control valves.

Air operated bell ringer.

Front coupler folds into Pilot.

Loco length (front coupler to back of cab roof) 88 ½", width 15 ½", height from track to top of cab 24".

Locomotive head light 12v halogen, Cab lights 12v, and water glass lights 12v.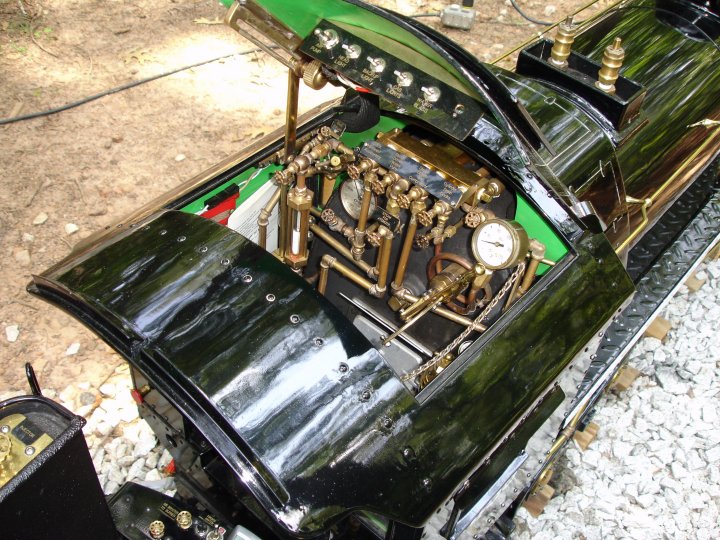 Tender mounted backup light 12v halogen.

Tender length from front control panel to rear coupler, 65"

Tender tank length 4'10".

Tender water capacity 30 gals.

Tender height from track to top of comfortable seat, 24".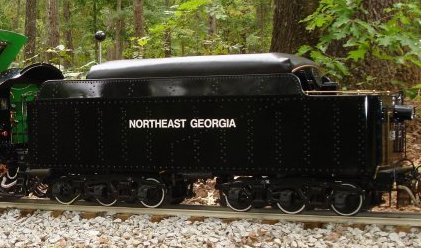 Tender width 15 ½".

Tender trucks – Buckeye with brakes by Tom Bee.

All hoses between loco and tender are quick connect.

Service box car length 76" less couplers.

Width 15 ½"

Air brakes.

Hinged top.

Service box car contains 2 aluminum fuel tanks with a 25 gal. capacity (approx.), 12 volt battery and 12 volt 1.77 cfm standby air compressor Viair. Electric fuel gauges and volt meter are included. Systems are protected by circuit breakers connected by a central buss bar.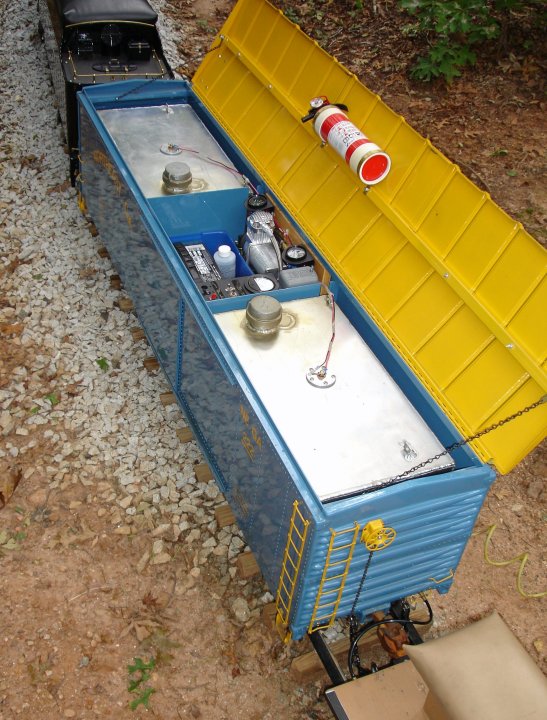 Alternator mounted on front truck of service car

Built and owned by Oscar "Gene" Lurwig

Phone: (706)-795-5564

Located in Northeast Georgia U.S.A.

This equipment can be demonstrated and training provided at Mr. Lurwig private track. The conditions at his track provide more than ample slope to prove the power and outstanding steaming characteristics of this engine.

Asking price $42,500 USD
---