Train Mountain
World Records set
for distance traveled in 24 hours by
miniature locomotives
July 31st-August 1st 2004
Using two Diesel outline locomotives, one a gas powered hydraulic GP38, the other a battery powered electric GP60, an attempt was made to break the distance traveled in 24 hours by a ride-able scale miniature locomotive. The only previous authenticated record is 168 miles, set by a steam locomotive in England in 1994.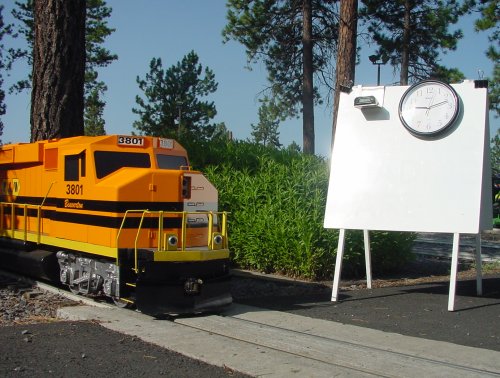 The GP60 waits for the 10:00 am start
The GP38 waits for the start with owner Lee Pirtle.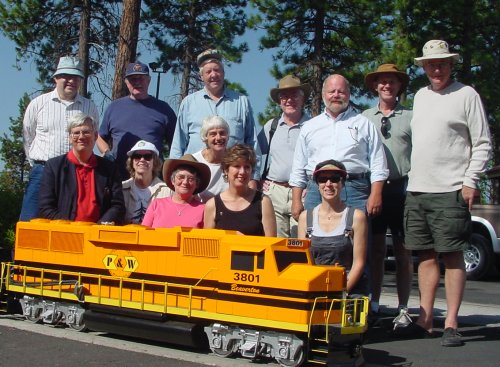 GP60 Team
L to R, George Hickok (loco owner), Bruce Wilson, Freda Beckman, Andy Logan, Geri John's, Catherine McDonnell, Lindsay McDonnell, Janet Mayberry, Michael John's, Margaret Hope, John Black, Trevor Heath, Carl Vanderspek,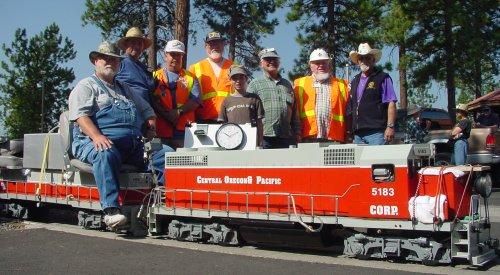 GP38 Team
L to R, Lee Pirtel, Bob McMillan, Chuck Stutt's, Russ Wood, Michael Harney, Dan Harney, Bob Rufenacht, Les Dent.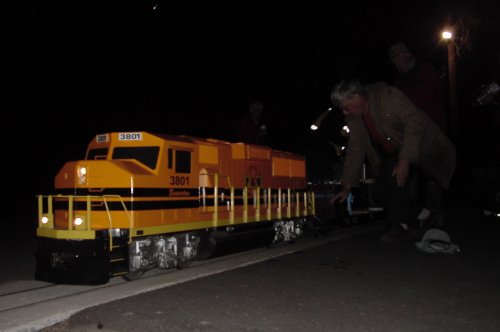 Bruce Wilson moves in for a battery change on the GP60 in the early hours of August 1st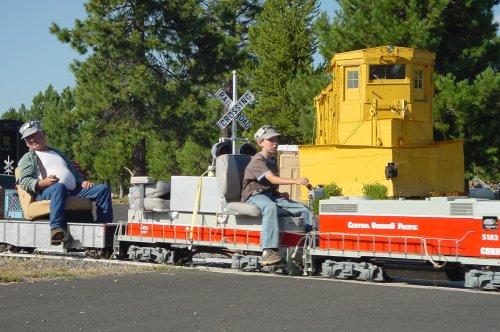 Michael Harney brings the GP38 back to Central Station after another lap. Note the auxiliary fuel tank behind the drivers position.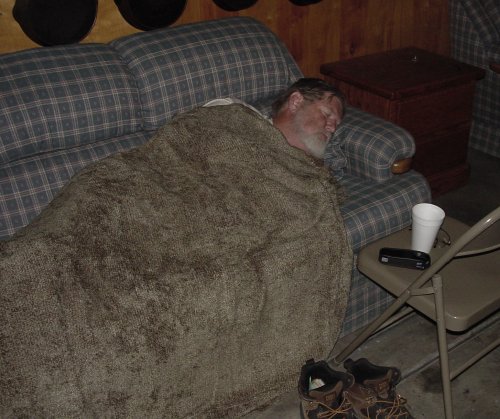 Russ Wood catches some ZZZZZZZZZZZZZZZZ's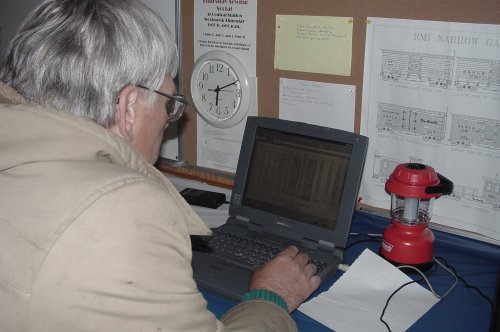 Bruce "The Professor" Wilson checks the laptop from where he was able to record and predict battery life, average MPH, crew change times, crew wake up times! and forecast probable mileage during the entire 24 hour period for the GP60 team.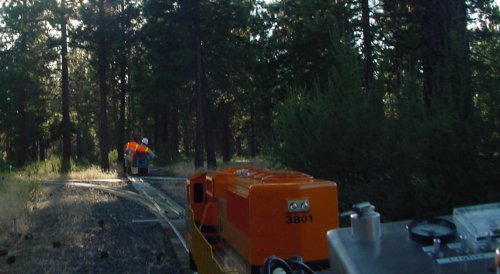 GP38 turns to the right as the GP60 turns to the left in the foreground, although the loco' were running approx 30 min apart, there were three places where the route laid out crossed over itself, this was one of them. At a steady 9-10 mph for both loco's, meeting at these points required great care to pass safely without loosing any time.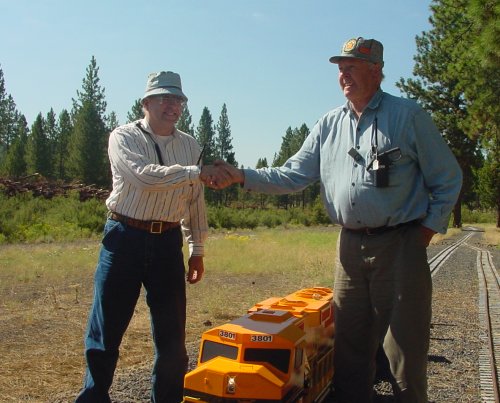 George and Lindsay at the finish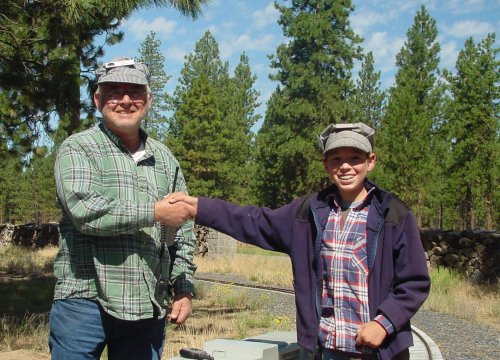 Dan and Michael at the finish
Michael was heard to say as they drove back to Central Station
"We did it Grand Pa, we did it!"
Both loco's completed the entire 24 hours with a few minor issues. The track was in suburb condition for the entire 9.67 mile circuit and not a single derailment was reported by either crew. Crew changes were as fast as 10 seconds. Battery changes were in range of three minutes.
The distances set, were 218 miles for the GP60 and 208 miles for the GP38.
These distances are claimed as world records to stand together with the 168 miles for Steam Traction held by Brett Rogers in England.
---