"Three days in January"
The incredible indoor live steam meeting at Sinsheim, Germany
I had the opportunity to visit this years indoor steam meeting at Sinsheim, Germany on Saturday January 11th 2003. This exhibition, now in its 7th year must be the largest indoor live steam event anywhere in the world. 30,000 squ meters (300,000 + squ feet) of covered exhibition space, over 5 km of 5" and 7.25" running track, 150 + loco's in steam, 20,000+ visitors, over 1,000 exhibits, 100+ trade stands, and these were the numbers from 2002!
Railway, Road Vehicles, Boats, Stationary engines, steam everywhere....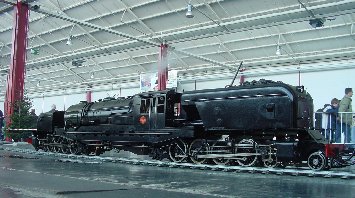 This 1" scale 4-8-2 + 2-8-4 GMAM Beyer-Garratt came from Geneva, Switzerland. It ran literally like a Swiss watch, so smooth, one could only hope to emulate.
View a video clip of the Garratt here
Interested in building a GMAM Beyer-Garratt? take a look here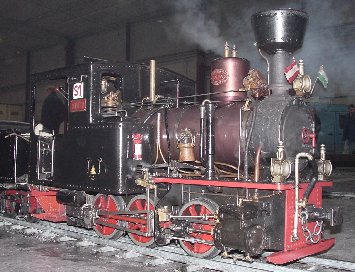 This hard working, and very detailed 0-6-0 loco came from Gratz, Austria. All loco's I saw running were coal fired.
Click here to see a video clip of this loco double heading on the huge indoor layout.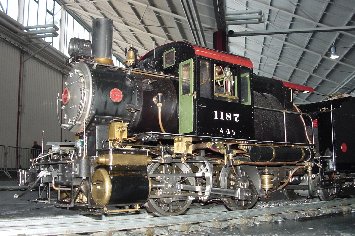 Another finely detailed loco, one of several with US origin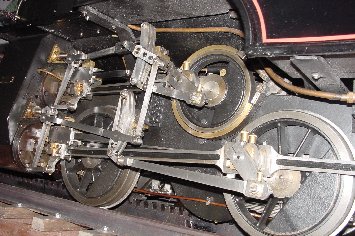 Detail of the rack operating mechanism on the loco from The Swiss Vapor Park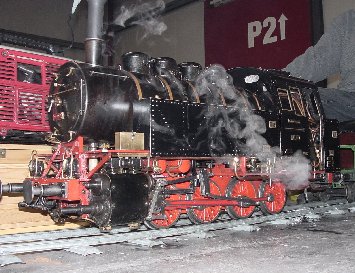 Raising Steam on the 5" bays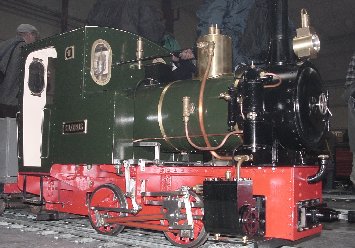 Raising Steam on the 7.25" bays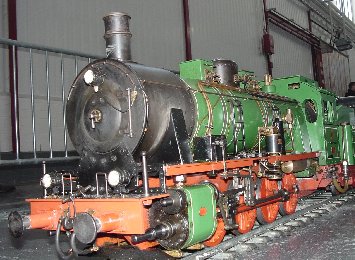 Prussian 0-8-0 waiting to run on the 5" steaming bays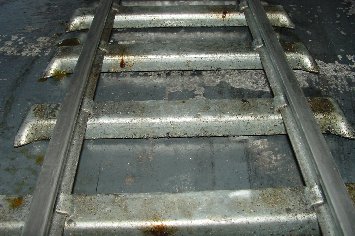 Folded steel rail with stamped steel Tie's (sleepers) makes up the track.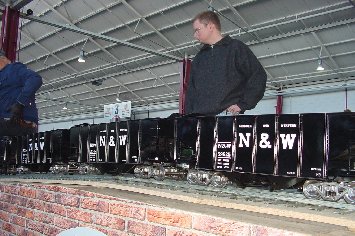 Hump shunting was one of the many activities. Many loco's hauling long trains of scale wagons. This train was hauled by a Reading Railroad 4-8-2.
View a hump shunting video clip here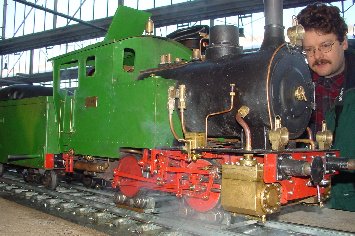 Loco's took their turn on the elevated rolling road to enable visitors a close up look. This area was also illuminated with studio lighting for photography. Huge crowds of on-lookers were fascinated by this spectacle.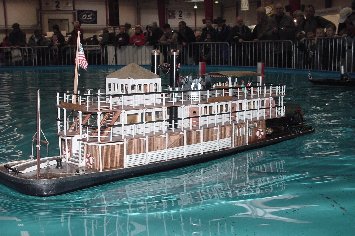 This beautifully detailed Paddle Steamer was churning on the "lake"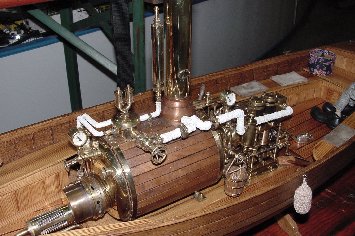 More beautiful workmanship in this marine boiler and engine.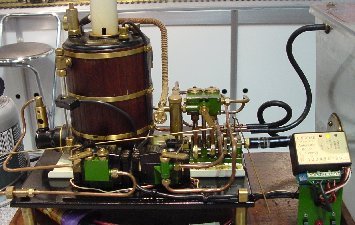 This boiler was demonstrating auto feed technology. One can see the control bottom right and the electric solenoids lower center. The sending unit for the water level can be seen on the gage glass.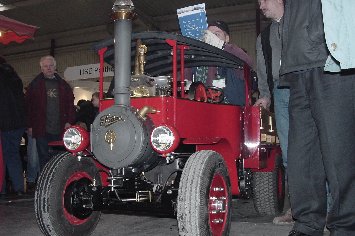 This huge Foden Steam Wagon lead the way in the numerous parades of road going equipment.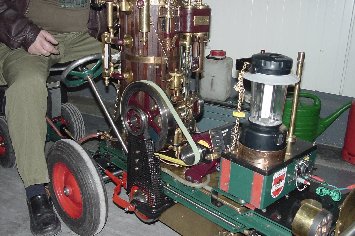 This very unusual tractor was also seen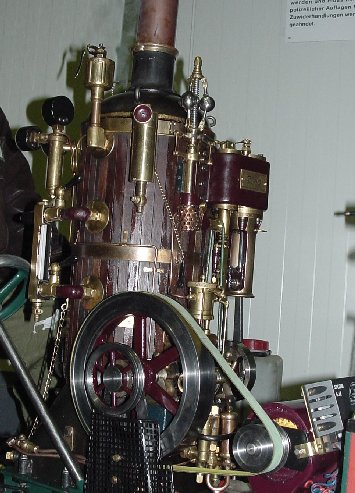 View of the boiler and engine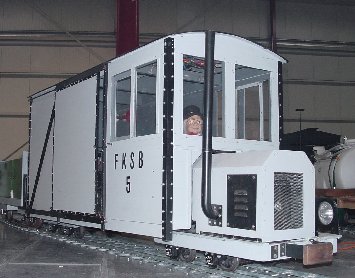 Interesting "Galloping Goose"
Sinsheim is in Southwest Germany near Heidelberg and is easily accessed by air, rail or car.
This is the web site for the exhibition
www.schall-messen.de/_s/echtdampf/
Just down the road, for additional interest is the amazing Sinsheim Transport Museum, 60 Aircraft including the TU-144, 20 Loco's, 300 Cars, Trucks, 40 F1 racing cars, 200 Motorcycles, Military Vehicles....plus much more.
This is the web site for the museum.
Next years exhibition is scheduled for January 9th -11th 2004
Trevor Heath