Steam in Nigeria
Nigeria Railways
Updated to February 2008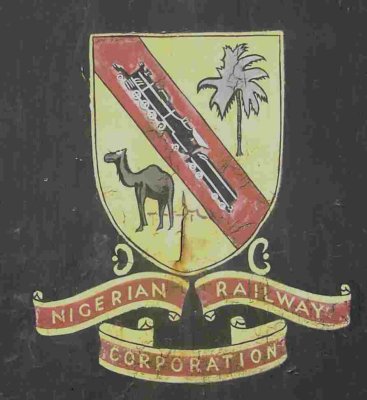 First a little background. In early July 2001 I was sitting in the bus station in Johannesburg, South Africa waiting for the bus to Bulawayo, Zimbabwe. After a while, I noticed these four African's in the same waiting room. They were unusual in that they were dressed in all kinds of layers of clothing, woolly hats etc. and were moving around flapping their arms, jumping up and down etc. indicating to all that they were very cold. The temperature in the waiting room was probably a mild 18-20 C.
Eventually, I walked over and asked them why they were so cold. They replied they were from Nigeria and had just arrived that morning from Lagos. I asked where they were going, they replied "George". I asked why they were going to George as I intended to go there later in the same month. They told me they were the National Judo Team of Nigeria and were going there for a competition. They asked where I was going. I told them Bulawayo, George and Nairobi to see steam locomotives. "Steam locomotives" they said. "Why not come to Lagos, we have steam locomotives". "You do?" I said. "I thought they were all gone, this is interesting, I've seen no reports on them" .
The manager of the team stated he had personally seen a steam locomotive running down the track in early 2001 in the Lagos area.
When I returned home a couple of months later I dropped Rob Dickinson a note telling him of the conversation. He basically said, "If I reported every supposed sighting of a steam loco in Africa, I'd be out of web space sooner than I could say Java" and so there I left it.
Enter Graham Roberts as the new Sub-Saharan Manager for Reuters and a railway enthusiast, based in Nairobi from late August 2001. Graham had the need to travel extensively as part of his work schedule. Eventually, in early 2002, he made it to Lagos had a bit of spare time and went to the main N.R. works in Ebute Metta. On his first visit he found two loco's. He has since returned and recently found two more for a total of four of the famous "River" class with 2-8-2 wheel arrangement. One is from the original batch built by North British. The other three are from the later batch built by the Vulcan Foundry. There are persistent rumors of two more loco's, another River class and a tank loco, thought to be a Bagnall built in 1928 at Enugu.
Recently three of the four loco's in Ebute Metta have been moved, along with some wooden bodied passenger cars to a reasonably secure covered building near to the N.R. HQ building which has been designated as a Railway Museum.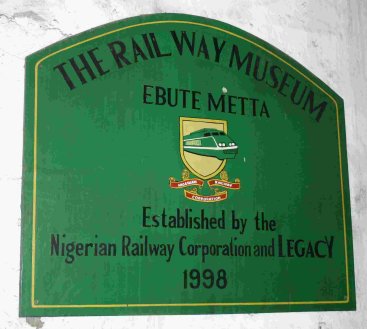 Here are some images of the loco's in their current location along with Graham's assessment of their condition as of January 6th 2005. (Builders numbers may not be correct in all cases).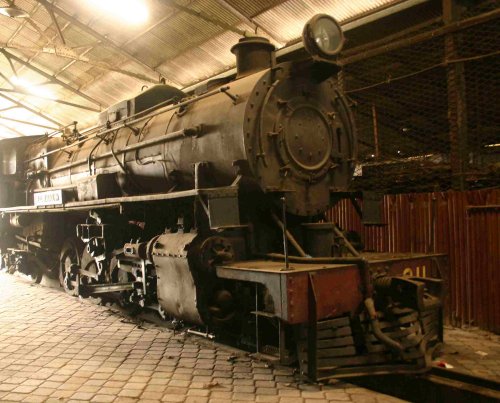 .
211 "River Karaduwa" (Vulcan Foundry, Newton-Le-Willows, Lancashire England, number 6218 of 1954)
"Coal fired loco. This is the loco which worked an excursion to Ibadan in early 2001. Basically seems to have no missing parts and she is in running order. Tender half full of small coal. Tires only lightly worn. Firebox cladding has some rusting at base, exposing lagging sheets. Cab fittings all present and correct."
This loco last ran in October 2003.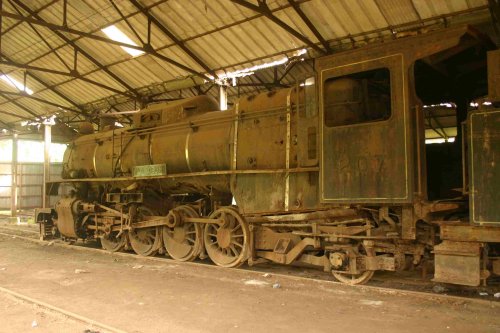 207 "River Delimi" (Vulcan Foundry, 1954).
"Coal fired loco. Missing parts include displacement lubricator, safety valves, whistle, all cab fittings, both connecting rod big end bronze bushings, injectors, copper piping. Tires have significant wear. Boiler cladding and cab floor very badly rusted. "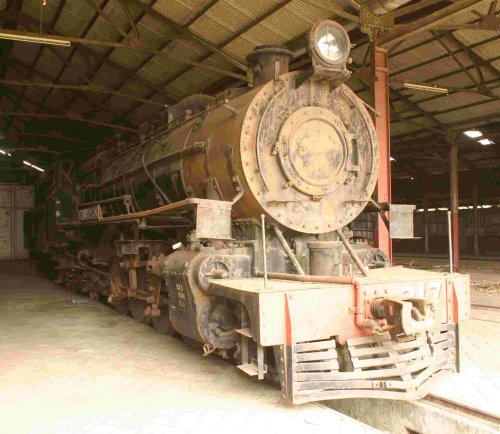 217 "River Swashi" (Vulcan Foundry, number 6198 of 1954).
Note the service pit under the loco
"Oil Fired loco. Missing parts: Injectors, injector piping. Most small-bore lubrication piping missing. Cab floor and boiler cladding OK. Tires only lightly worn. Cab fittings thought to be all present (cab is protected by welded window bars and a welded "door" completely preventing access to footplate). "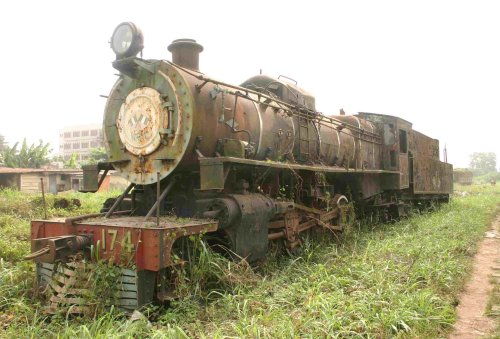 174 "River Gudi" (North British, Glasgow, Scotland, number 26252 of 1948).
"Oil Fired loco. Missing parts: RH. front cylinder cover casting. Injectors, safety valves, whistle, sight-feed lubricator in cab, motion crank covers, several oil cup nuts, eccentric crank nuts. Steam pipes All small-bore lubrication piping missing. Cab floor and boiler cladding underneath both extensively rusted. Tires only lightly worn. No blanked tubes; smoke box in good order. Loco is sitting in the open in the shed yard and is immovable. Tender is confirmed as on the rails (brakes jammed, Pistons - Cylinders seized? ), which is why it was not removed a few months ago with the other three locos to the shelter of the building planned to house the railway museum."
Does anyone know when part of the Nigerian "River" class fleet was converted to oil firing?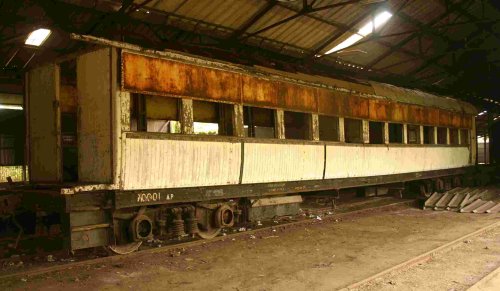 One of two passenger cars
With the loco's now stored under cover, their future seems reasonably secure. It would seem that 211 and possibly 217 could be returned to regular steaming condition with 207 as a source of some spares. As 211 is a coal burner and the coal is 1000 km away at a mine where the labor force is on strike and with Nigeria having extensive oil supplies, using 211 with the tender and oil burning equipment from one of the other loco's might make the most sense, at least initially.
Since posting this web page on January 7th 2005, I have heard from a traveler, Nicky McLean who's Father worked for both Nigerian and Kenya railways. Nicky's Nigerian travelogue can be read here. Nicky has also now sent three of the four images below, all taken in January 1998.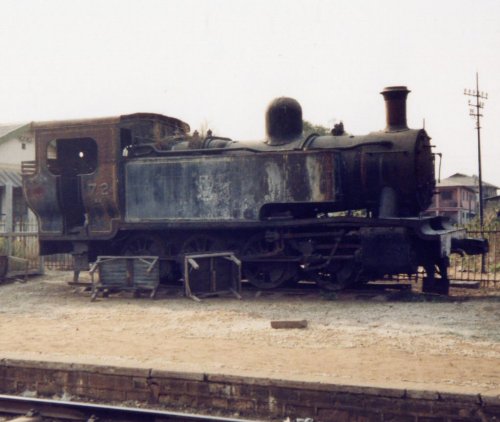 Hunslet 0-8-0 Tank loco number 72 of 1947 at Jebba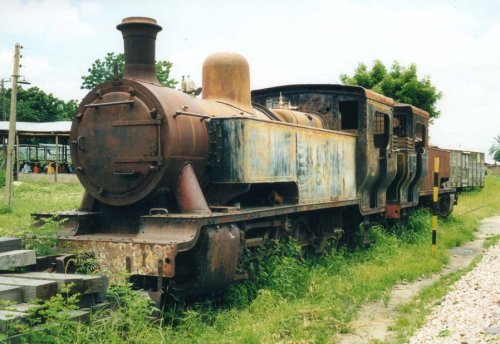 Hunslet 0-8-0 Tank loco's, numbers 86 and 94 at Gombi in 1999
Wortley Forge Photo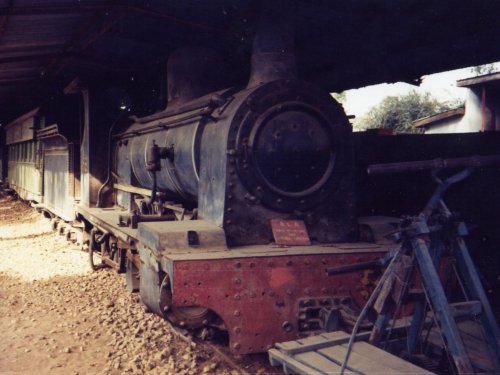 Kitson 0-6-2, 2' 6" gauge number 56 at Jost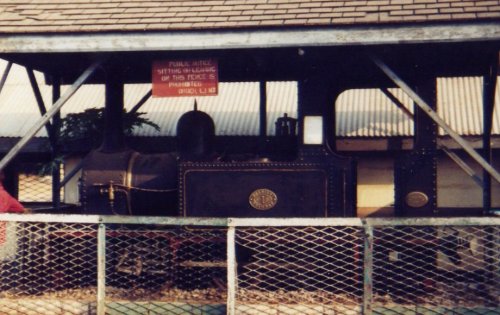 Hunslet 0-6-0, 2' 6" gauge tank loco number 1 at Minna
Thomas Kautzor visited Nigeria in December 2007. He found the locos at the museum above to have been "raided" and most number and builders plates stolen along with some of the motion. He then went to Enugu where he found not one but three more River class along with a Bagnall tank loco. see here:
Rob Dickinson's CD "Steam Safari (North) has a wealth of images of Nigeria when steam was working in addition to other countries in Africa and can be obtained here
Trevor Heath
Port Orchard,
Washington USA
January 25th 2005 (updated February 2008)
trevordotheathatlivesteamingdotcom
---