England, July 2005
Kyre Valley Railway
Herefordshire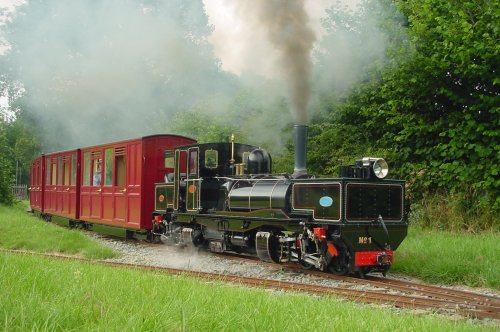 7.25" gauge version of the original Beyer-Garratt K1.
Loco is 11 feet long and weighs 3,400 lbs. The whistle on this loco is made from an original boiler tube from the prototype. Built by John Milner and owned by Tony Marris. She is a delight to drive, very similar characteristics to Ian Welsh's NG/G16 in New Zealand.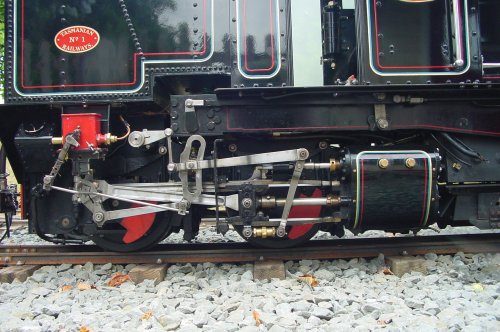 Image shows the rear high pressure cylinders. The K1 was the only Garratt to have inboard cylinders and one of very few to be a compound. The floor of the cab gets very hot.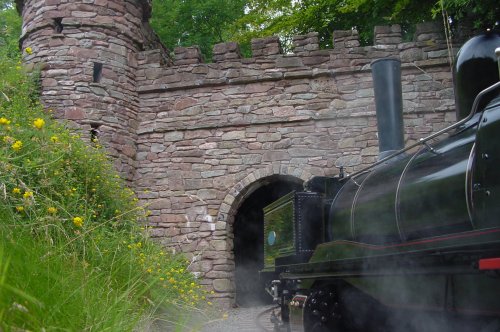 Entering the tunnel at "Hyde Castle"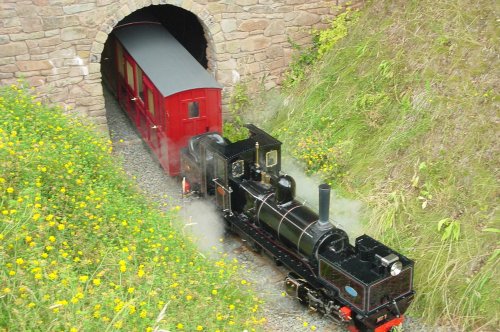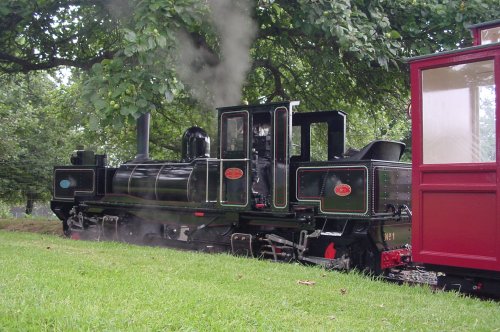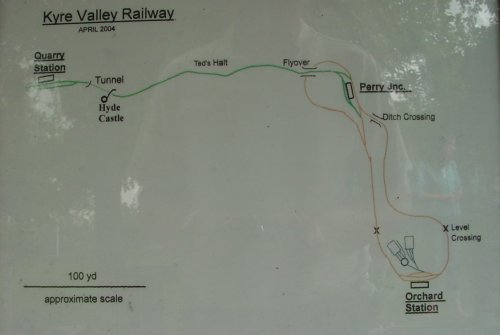 ---
Masham Rally
Yorkshire
Beer and Steam!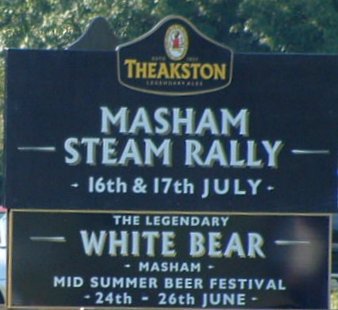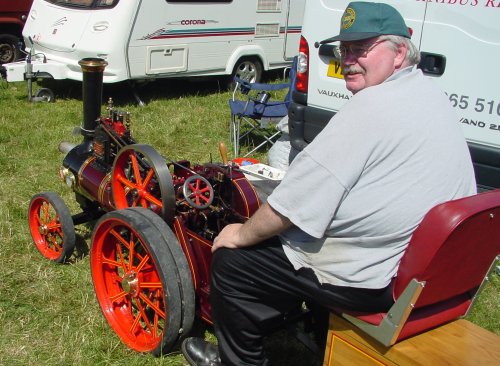 Jim Nolan wearing his Train Mountain Triennial 2003 hat while driving his 5" scale Burrell. Jim loaned us the loco for the traditional run over public roads into Masham town square on the Saturday night of the rally. Driving any steam locomotive over a hump-back bridge is an experience both in water level control and gearing! Jim's loco ran beautifully, we made it over the bridge and up the hill into town with steam to spare and hundreds of folks lining the road cheering!. We will be forever grateful for the opportunity.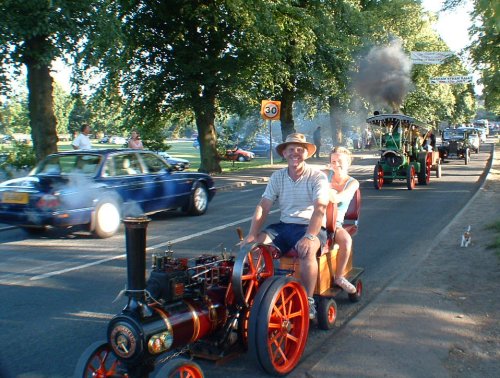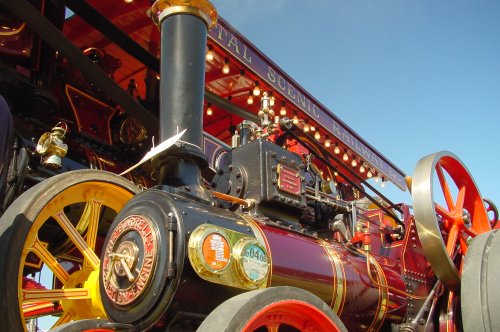 Jim's Burrell alongside the showman's engine "King George V"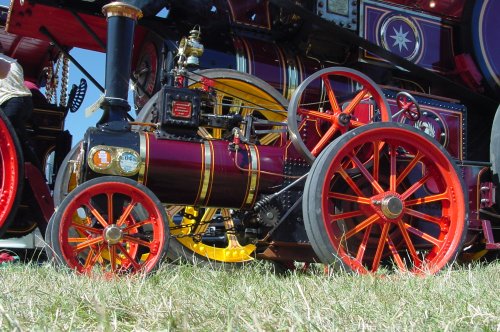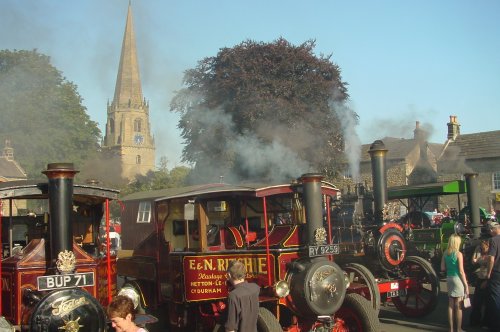 Masham town square, Saturday night.
The square was packed with loco's and people. Probably 40 loco's made the trip.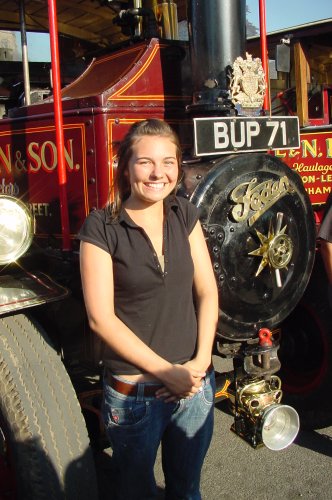 Lady driver with her steam powered Foden truck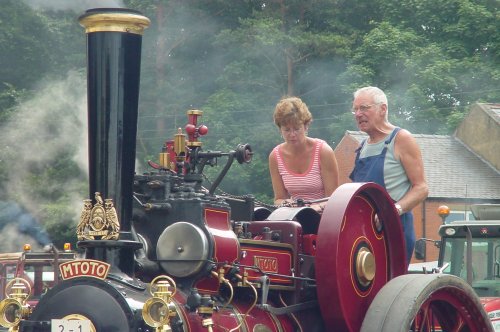 Janet Mayberry with Ken Collins on the Fowler "Mtoto" (Swahili for "Little One")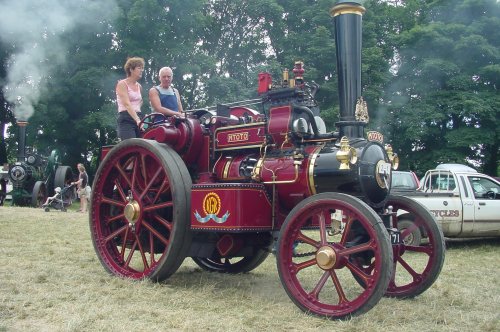 ---
E.A.R. 59 class Beyer-Garratt engine units
Weston Park, Shropshire
The new boiler for this loco is finished and reassembly should occur later this year.
---
African Live Steam Meet
High Wycombe, Hertfordshire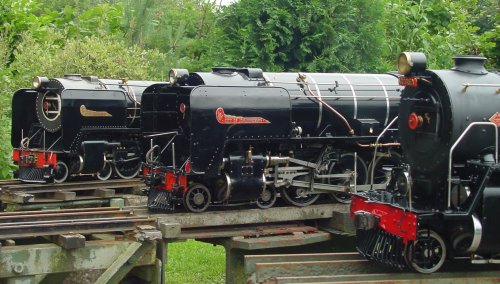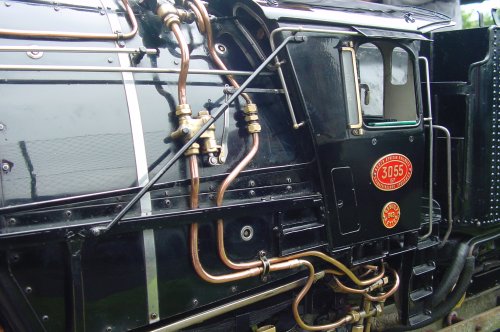 Mike Jones 15F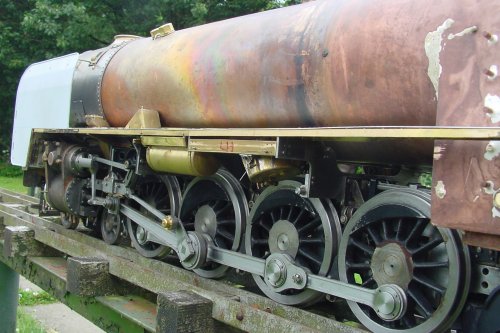 3.25" Gauge 25NC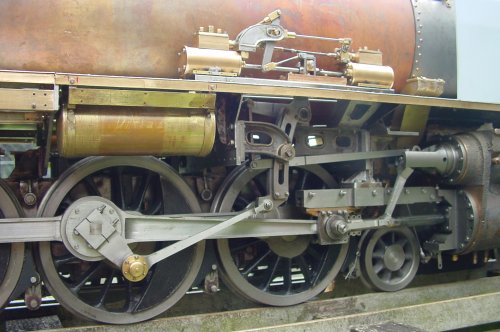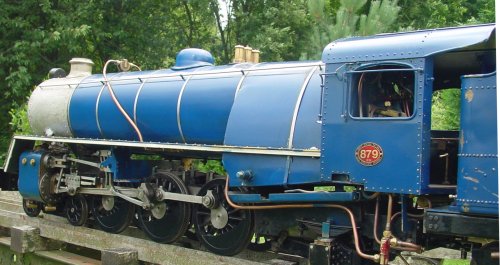 Richard Niven's 3.25" Gauge 16 DA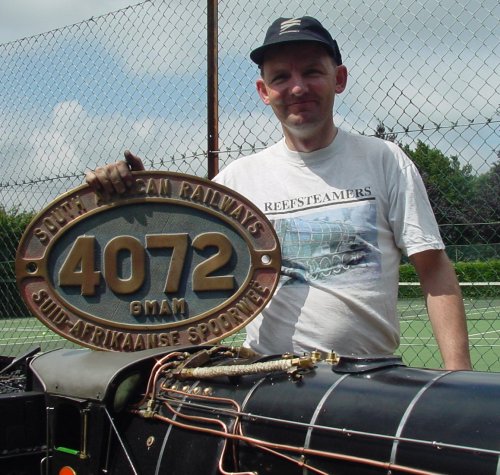 Richard "Iron Man" Niven with the cabside plate from GMAM Beyer-Garratt number 4072 which he fired when in service in South Africa.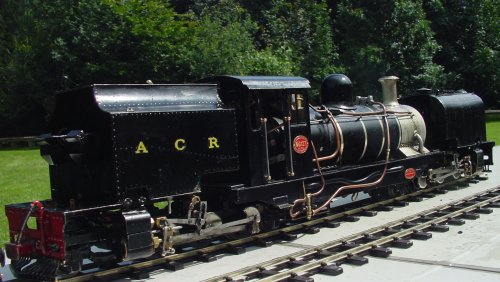 NG/G16 in "G" scale and coal fired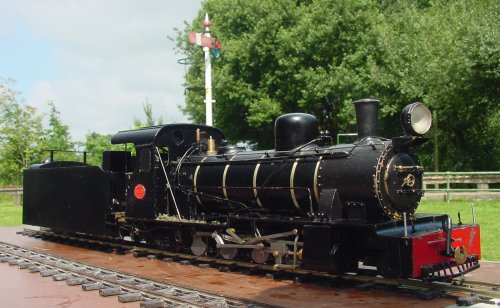 NG15 also "G" scale and coal fired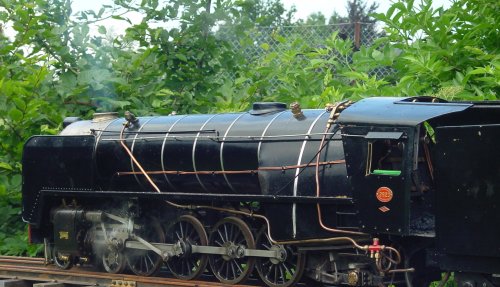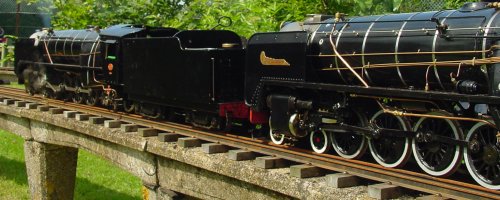 Double heading 15F's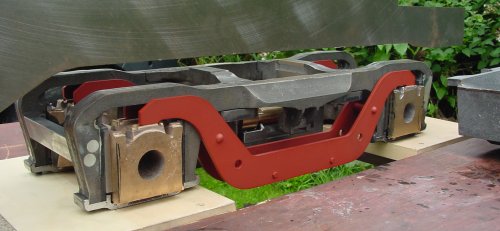 Front truck from Jim Nolan's 7.25" Gauge SAR 25 NC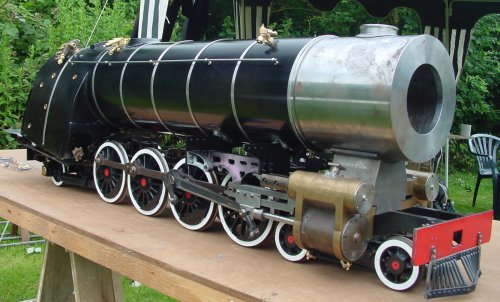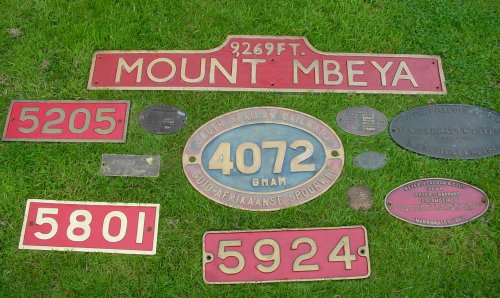 Display of East and South African plates.
For anyone interested in building miniature South African Live Steam Loco's, there is a Yahoo news group you can join.
Send an e-mail here: SAR_livesteam-subscribe@yahoogroups.com
---
Great Cockcrow Railway
Chertsey, near London
One of the best managed and best run miniature railways anywhere in the world. Signaling system second to none. This railway, which is open to the public every Sunday from 2 pm to 5 pm should be on the "must visit" list of every live steam enthusiast.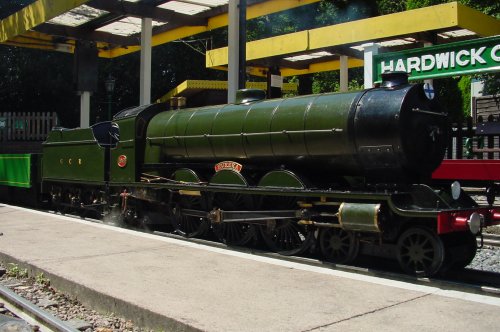 The locomotive "Eureka", ever present on the railway since opening day. She was built in the 1920's by Lewis Shaw. Shown here standing at the main station "Hardwick Central"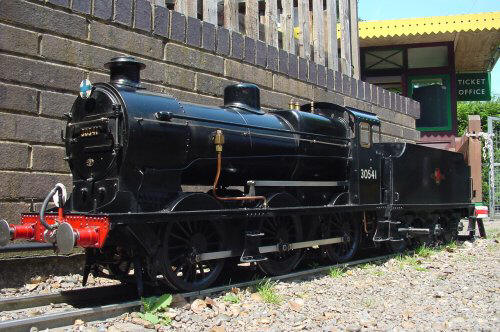 Southern Railway "Q" class 0-6-0 in British Railways livery owned by Ian Allen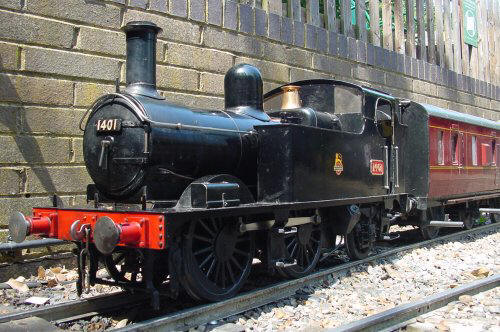 G.W.R. "1400" class 0-4-2T built by Roger Sills in 1980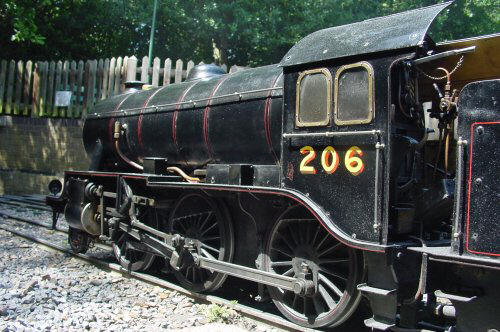 L.N.E.R. "K5" 2-6-0 built in 1956
This loco hauled the opening train on the railway in September 1968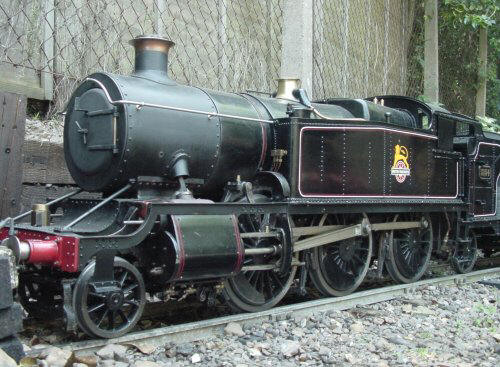 Great Western Railway "Prairie" 2-6-2T in British Railways livery built by Keith Wilson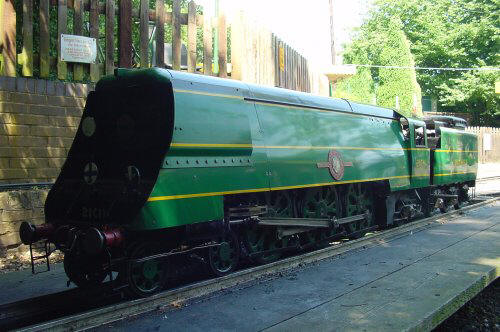 Southern Railway 4-6-2 Merchant Navy class "General Steam Navigation" built in 1993 by Norman Sleet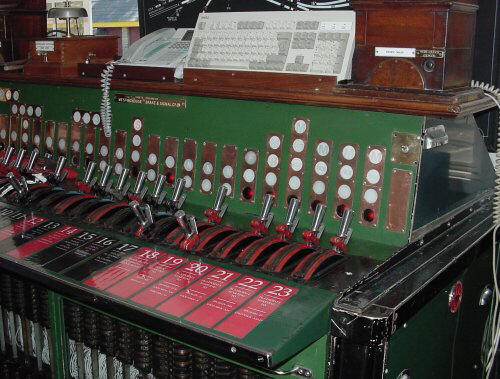 One of two prototypical signal boxes that control operations on the railway.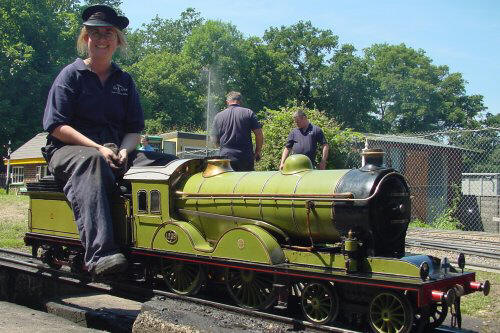 Eleanor Sills on her N.E.R. "R1" 4-4-0 built in 1913 by F.W. Baldwin and given to her by her Father as a 21st birthday present.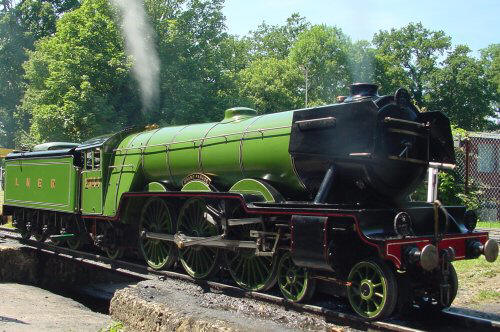 LNER "A3" 4-6-2 "Grand Parade"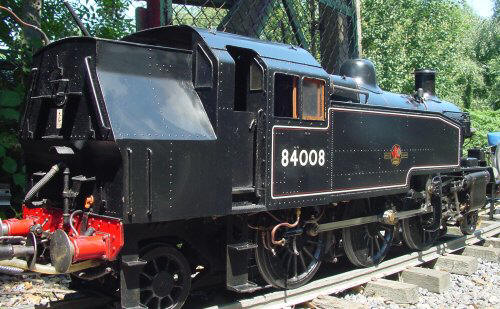 BR "Standard Tank" 2-6-2T 84008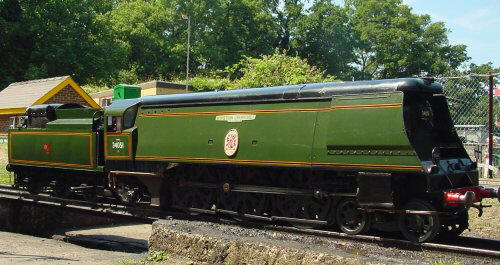 Southern Railway, Battle of Britain class, Bullied designed Pacific 34051 "Winston Churchill" built in 1995 also by Norman Sleet. The prototype of this locomotive is in the UK National Railway Museum in York, England.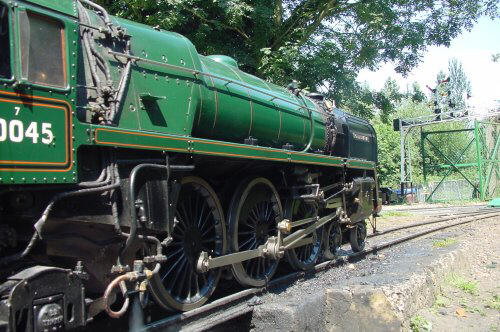 BR "Britannia Pacific" 4-6-2 70045 "Lord Rowallan" one of 4 of this class based on the railway.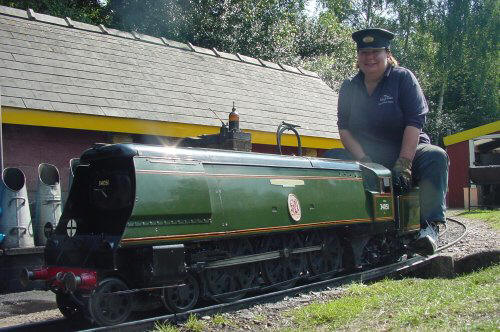 Winston Churchill again with Lady engineer who did not want to give her name.....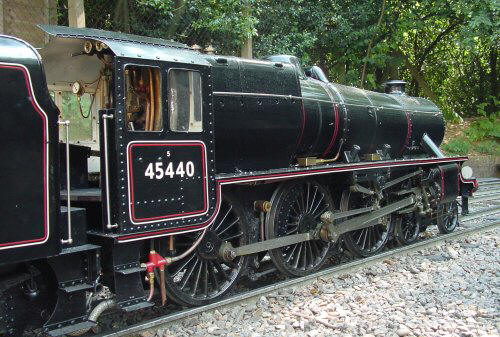 L.M.S. "Black Five" 4-6-0 45440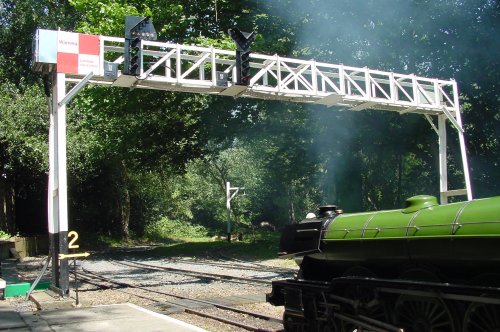 LNER "A3" "Grand parade" getting away from a signal check at Everglades Junction
---
Weston Park Railway
Shropshire
Brett Rogers on "Peggy" with the team who hold the world record for distance traveled by a steam locomotive in 24 hours on a miniature railway. (1994). Other members of the team are L to R, Geoff Nicholson, Rod McRae, Bob Meanley, Tim Carver, Simon Hudson, Peter Davidson, Eric Smith, Dave Turner, Christopher Finkin, and "unknown"
Missing from photo are Charlotte Rogers, James Rogers, George McRae, and Glen Wilson.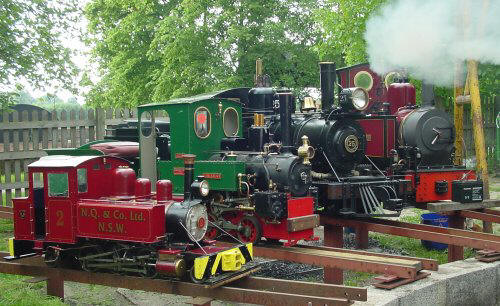 An interesting line up of loco's of different scales but all 7.25" gauge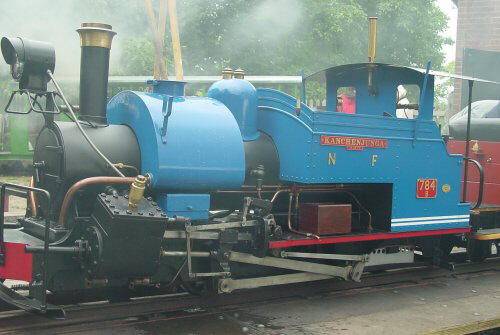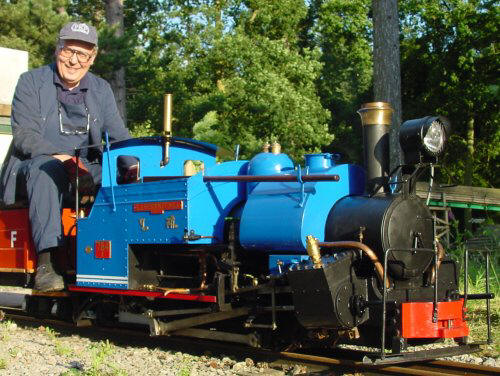 Brett Rogers today on his Indian, Northern Frontier Railway "B" class tank loco "Kanchanjunga"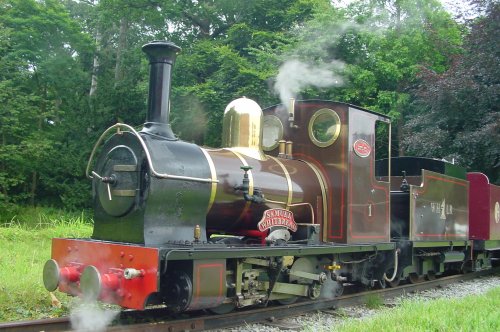 Resident 0-4-2 loco "Samuel Whitbread". It used to run in the grounds of a pub hence the name.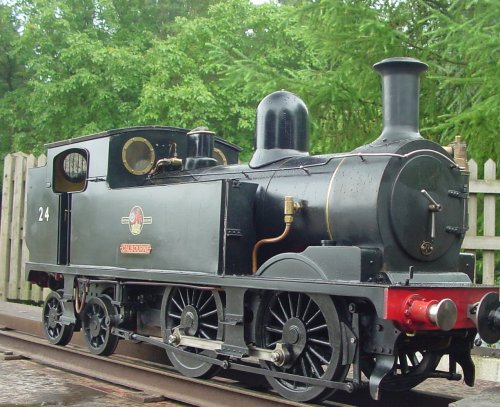 Isle of White Railway 02 tank loco "Calbourne" built by Terry Jenkins. The prototype of this loco operates on the Isle of White off Southern England today.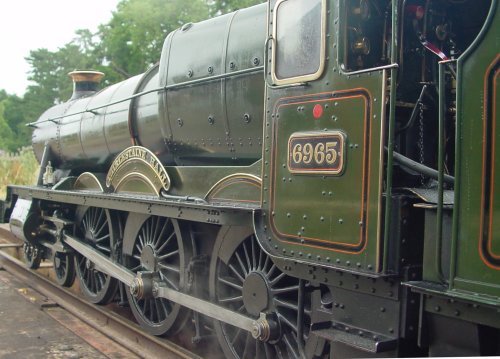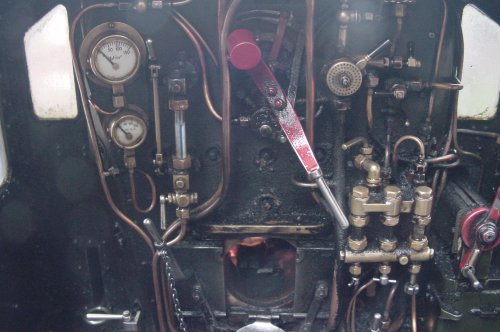 Two views of GWR Hall class 4-6-0 6965 "Thirlestain Hall" built by John Hancock. A seriously well built and well used locomotive that has run in excess of 1000 miles per year for the past 8 years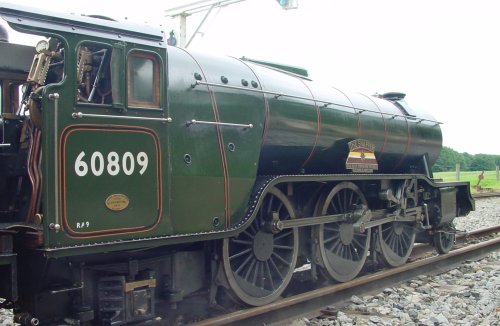 Phil Keating's LNER V2 2-6-2 "The Sapper"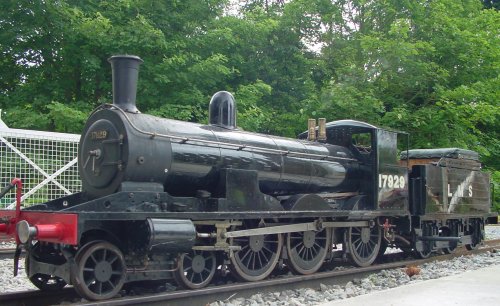 Andrew Budge's "Jones Goods" loco in L.M.S. colors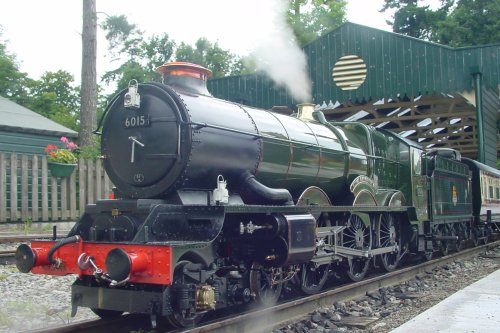 Several views of Graham Tyler's beautifully built GWR 4-6-0 "King" 6015 "King Richard III" with double Chimney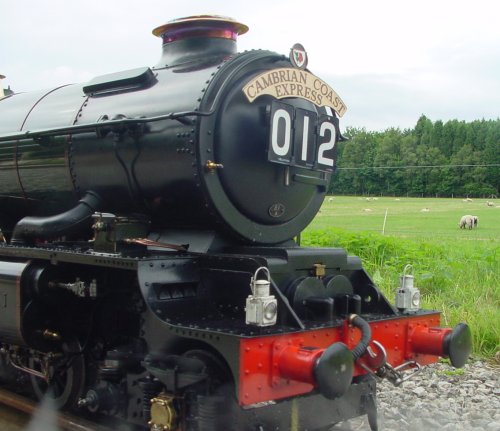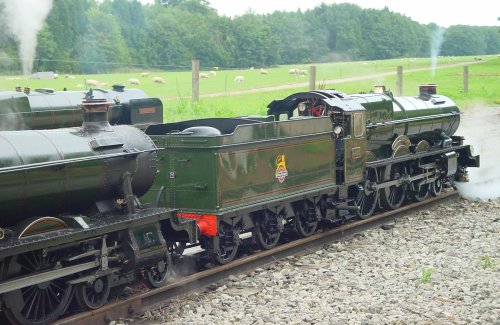 GWR "King" 6015 "King Richard III" and GWR 6965 "Thirlestain Hall" ready to go while Britannia "Pacific" 70008 "Black Prince" waits in the loop.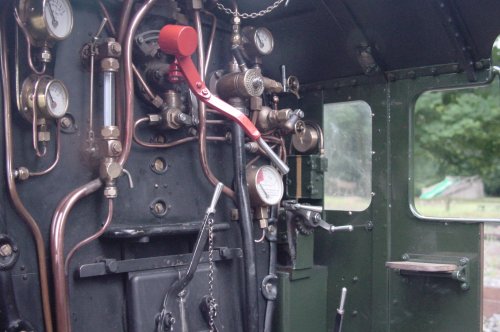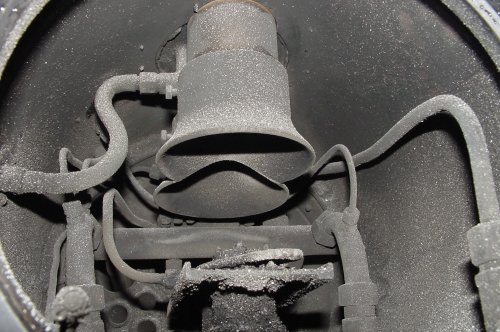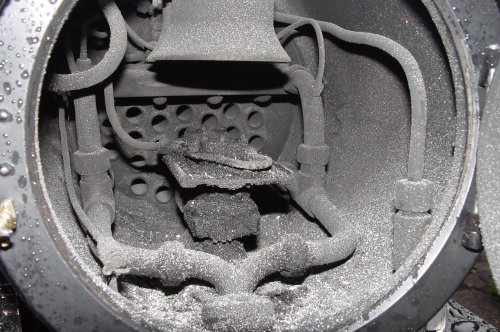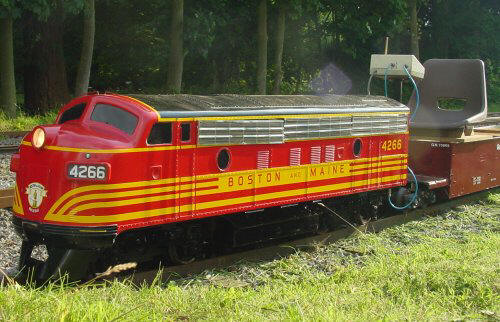 This Boston and Maine F7 owned by Derek Payne, shown at Weston Park, visited Train Mountain, Oregon in 2003
---
Beer Heights Railway
Dorset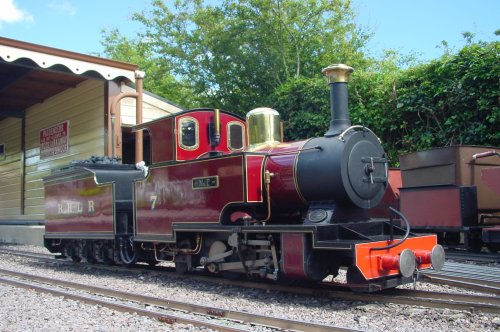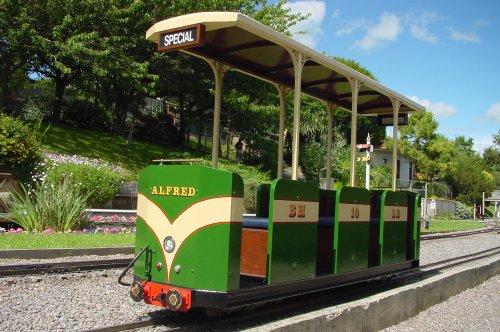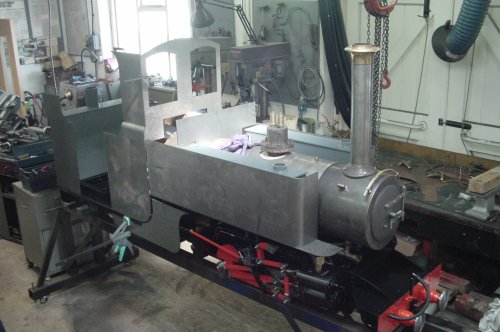 New loco under construction based on a "Single Fairlie" 0-4-4. It is to be painted in the colors of William Stroudley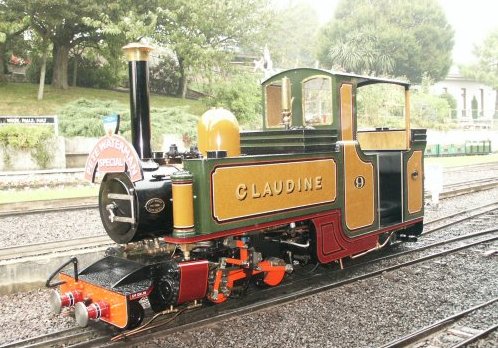 Here is the finished loco taken just 7 weeks later.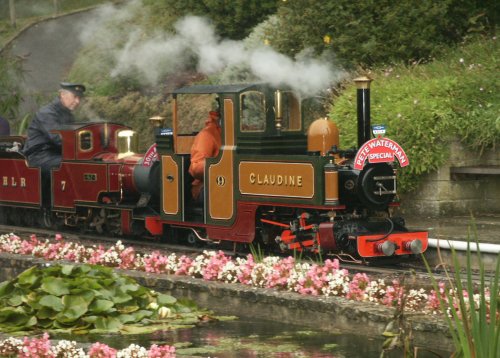 Tong Gosling photo's
---
15" Gauge Steam crane
Williton, Somerset
---
Thanks to the many who's hospitality made our visit so enjoyable but in particular:
Tony Gosling, Mike John's, Kim Richardson, Jamie Lester, Jim Vass, Jim Nolan, Bruce Walley, Tony Marris, Gordon Macintosh, Ken Collins, Bryn Morgan and Brett Rogers.
Additional images of the covered 7.25" gauge passenger coaches featured on this page can be seen here
Trevor Heath
Port Orchard, Washington USA
August 2005
---