The F.C.A.F.
"The train at the end of the world"
Ushuaia, Argentina
re-opened in 1994 to cater for tourist wanting to visit ...
"the end of the world".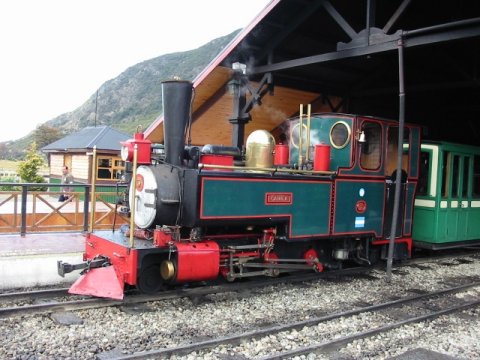 Winter here is a serious business although the operating season is now year round
First opened in 1896 it was closed in 1947
Prisoners were originally used to build and maintain the line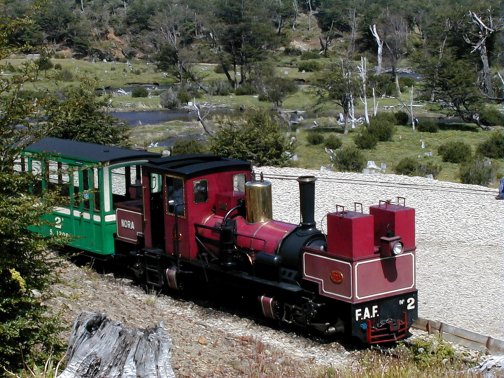 Note the swing out drivers seat for summer driving and, a better view when approaching the terminus
Primary customer base are cruise ship passengers traveling the Southern Ocean
#2 before rebuild using L.D. Porta technology
Note the massive tapered chimney, part of the Lempor exhaust system and the huge curved steam pipes.
The rebuilt FCAF #2. Chris Newman photo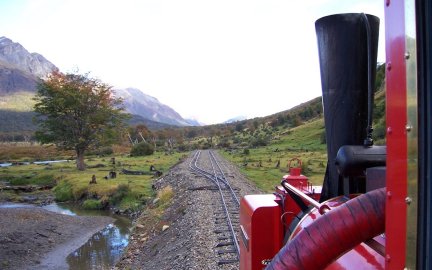 "Fireman's" view of the road ahead from #2 although no fireman is employed.
Loco's are single person operated.
A second advanced Garratt under construction
The completed second advanced Garratt awaiting shipping at the Girdlestone works in South Africa
Loading for transshipment to the docks in Durban, South Africa
The above two images credit to Alpha Shipping
The FCAF driver roster
All photo's via Shaun McMahon, November 2005
To read much more about this remarkable railway and the advanced technology it employs, click here and here
---