Being a steam nut all my life, working on steam for the New South Wales Government Railway in my early working life and having built a number of live steam locos, I have always been keen to go into full size restoration. After I took an early retirement about 18 months ago the opportunity arose to join the Glenreagh Mountain Railway that had just taken delivery of an old Beyer Peacock 0-6-0 "19 class", built in 1878 from the old "New South Wales Government Railways" here in Australia. Here are two photo's showing her in operation and just after retirement.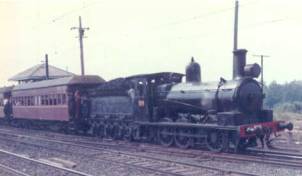 .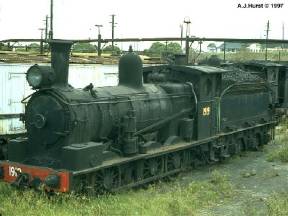 When I first saw her at the railway she was standing derelict and minus her chimney in a shed that the volunteer group had managed to build from money that a deceased member had willed to the movement. I walked into the shed and just sat there and thought well, where do I start? I have built a few live steamers and had actually worked on the engine when she was in regular service many years ago. Sitting there I said well, she's no different to a model, she just weighs 47 tons more! Lets have a go! So I headed right over to Bruce's place a, good mate of mine. Bruce is a guy who comes over and drives my live steamers. I said, "Right, what do you think?"
The very next week Bruce and I started to dismantle and ready here for a complete inspection of the boiler and all working parts. Bruce and I worked steadily for 5 months every Thursday until we had her standing there stripped to the bare bones. We then called in the boiler inspector to give us an assessment. He gave us a list of repairs, which were not too daunting. The railway then made the decision to go ahead and fully restore the loco.
The following week I got the local newspaper to do a story on the loco with some photos of Bruce and I asking if any body wanted to join us. From that article came forward one of the best group of blokes I have ever met. Most had been retired for a number of years and were looking for something stimulating to do and have they have certainly found that! Some were old railway blokes others retired engineers, doctors and yes even a member of the clergy. We have a good cross section of people. A restoration program was drawn up and everyone took on various projects. One member, Ross Jones a retired diesel mechanic, is restoring two Westinghouse air compressors. It is rumored that they will blow smoke instead of air when they are overhauled.
After some months, the boiler repairs were completed, complex repairs, which involved the welding in of patches to wasted sections. The boiler inspector was then requested to return and we hydrostatically tested the boiler to 225 lbs. per square inch (some one else can work that out in kilopascals they didn't have them in 1878!). The boiler passed with flying colors.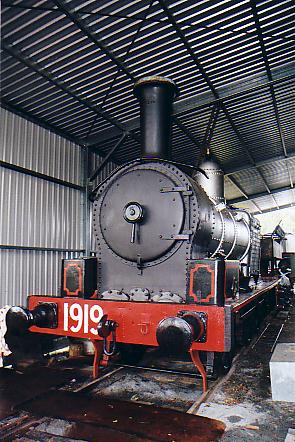 Well from that time onwards the group just hasn't looked back. With the locomotive now assured to steam again a lot of interest has been generated from all around. A lot of people have come out of the woodwork with loads of help. The old 6-wheeled tender is badly rusted and work will start on a new water tank within the next few weeks. This work should be completed within 4 to 5 months. New lagging and boiler jacketing is now being built and installed on the boiler. When this is finished, the rest of the locomotive can be assembled. When we received the loco, all the fittings were missing. By visiting every other preservation society in NSW and with the help of various individuals, collectively, we have had donated all the missing parts such as gauges, lubricators, valves etc. etc. Everything has been found, restored and is now ready to be fitted. In the months ahead, great things await us like the first steam up and trial running. It is sure to be a big buzz.
Of course it is never as easy as that. Much has to be done to satisfy the government departments that sanction running the loco, for example, setting up the operating training which will cumulate with certification to operate the loco. I have to say though, they have been very helpful to us and are encouraging us to have a go and do the right thing. At the same time another group are restoring several carriages and an old open 4-wheel wagon in which we have been given permission to allow people to ride out in the open behind the engine. Yet another group are restoring the track and this is where the really heavy work is taking place. The old line is, in it's self a work of art, it is as closed in the 70/s and climbs up the coastal range through dense rain forest with a high annual rainfall which has rotted out every timber sleeper (tie) and every wooden bridge and was so heavily overgrown with every weed imaginable imported into this country. Weeds grow here at about a hundred fold from their native climate and formed an almost impenetrable wall.
The group bought half the line, which is 35 kilometers long for wait for this for the princely sum of $1 surely one of the best real estate deals in the last century. The group are sticking to a policy of that we don't want any thing on the property that we are not going to use hence you will not see loads of old rotting rolling stock only those items that we need and are being restored to operate the railway.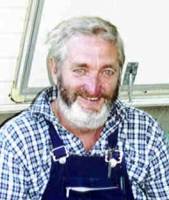 Author: Bob Farquhar
Repton, NSW Australia
2002